Recipe Time: Garlic & Dill Grilled Caribbean Lobster and Tuna
30 Mar, 2017
Looking to spruce up your Easter menu this year with a kick from Jamaica? Couples Tower Isle chef Valentine McKenzie shared with us a new take on the spring holiday with a scrumptious garlic and dill grilled Caribbean lobster and tuna. Read more for full recipe.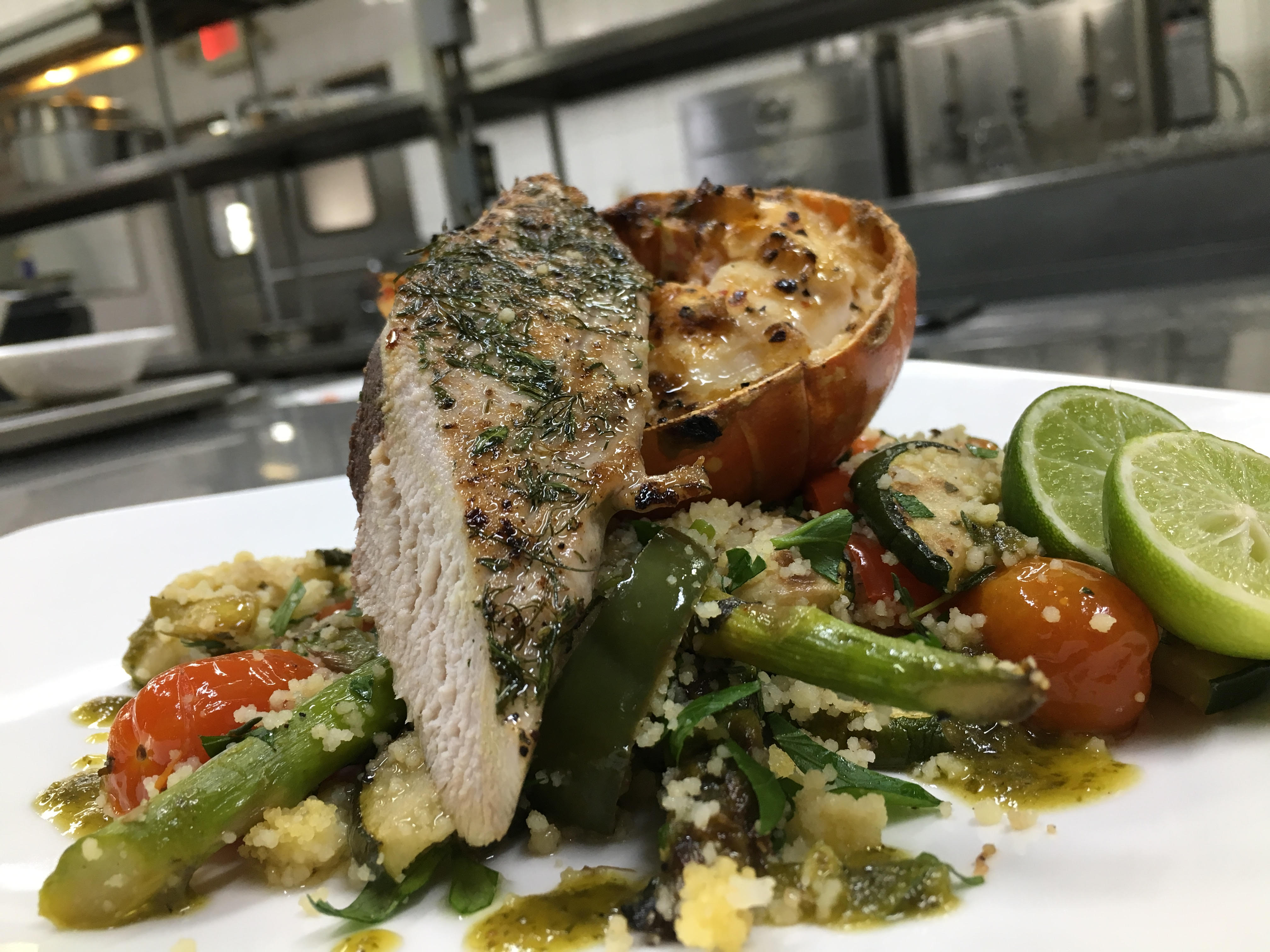 Garlic & Dill Grilled Caribbean Lobster and Tuna / Couscous with Roasted Asparagus & Zucchini / Blistered Cherry Tomatoes / Lemon Herb Oil
2 Persons:
1 Caribbean Lobster (Whole or Tail only) - split in half
2 each 4 oz pieces of fresh tuna
1 small bunch scallion - - chopped
2 clove garlic - finely chopped
2 tbsp chopped fresh dill
Juice of 1 Lime
4 tbsp olive oil
salt / freshly ground black pepper
Quickly rinse lobster and tuna with cold water
Pad dry with kitchen paper towel
Season both the lobster and the tuna with salt and black pepper
Mix olive oil with scallion, garlic, lime juice and dill
Poor marinade over the lobster and tuna.
Allow to marinate in the fridge for about 30 minutes
Pre-heat a heavy grill pan for 5 minutes
Cook both the lobster and the tuna until done (about 2 minutes on each side)
Keep warm
Couscous with Roasted Veggies
1 cup couscous
1 cup chicken stock
2 tbsp olive oil
salt / black pepper
Mix couscous with boiling chicken stock. Cover and allow to 'cook'. Add olive oil and adjust seasoning with salt and black pepper
small bunch of Asparagus - bottom 1 inch trimmed
1 small zucchini - cut into 1 inch dice
1 cup cherry tomatoes
1 small red onion
2 cloves garlic - roughy chopped
sprig of fresh thyme
4 tbsp olive oil
salt & freshly ground black pepper
Place all vegetables on a baking sheet
Cover with olive oil
Season with salt and pepper
Place into a pre-heated oven (375 degrees Fahrenheit)
Cook for about 12 minutes - until veggies are cooked and caramelized on the outside
Remove from oven and mix with cooked couscous
Lemon Herb Oil
1/2 cup olive oil
zest and juice of 1 lime
salt & freshly ground black pepper
2 teasp mixed fresh herbs (parsley / cilantro / dill)
Blend all above ingredients in the food processor for 20 seconds
Serve as shown in the picture
Finish with a drizzle of herb oil
ENJOY!