1-800-COUPLES
Check Availability
Already Booked?

Free Excursions
Free Golf + Scuba Diving
No Fault Cancellation
Roundtrip transfers from
the airport in Montego Bay
Couples Corner
Welcome to Couples Corner, where we explore all-things Couples, romance, adventure, cuisine and Jamaica. Join us on this journey as we share stories of our lovable staff, loyal guests and behind-the-scenes insights of these breathtaking resorts.
An Elevated Jamaican Adventure - New Inclusions
15 Mar, 2017
It's no secret that Jamaica is known for its expansive white beaches, rugged mountains, breathtaking waterfalls and authentic Caribbean hospitality. When you are at Couples Resorts you get the true Jamaican experience. This summer, we are providing guests with access to even more excursions to explore during your stay. From horseback riding in the waves to zip lining amongst lush canopies, we are offering premium tours for a limited time. Put on your vacation hat and let's get planning!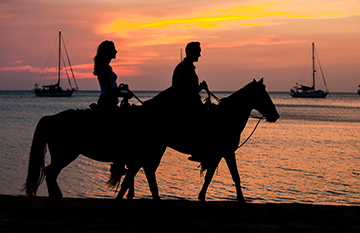 Read more