1-876-632-8200
Check Availability
Already Booked?

Free Excursions
Free Golf + Scuba Diving
No Fault Cancellation
Roundtrip transfers from
the airport in Montego Bay
Couples Resorts Sustainability: A Love Letter to Jamaica
We focus on love at Couples, which includes love for guests, one another and our environment.
13 Feb, 2017
Loving our environment is second nature, as love is the center of all we do, and who we are.
This Valentine's Day we are bursting with pride to call our home Jamaica. She is beautiful, she is fruitful and she is soulful in all she does and puts her mind to. We are so proud to be a Jamaican company, family-owned and thriving by your love and support for our resorts, our staff and our product. We do what we do because of you, and we'd like to take this Valentine season to share with you how we share the love of Jamaica and this wonderful country all year long through our sustainability programs.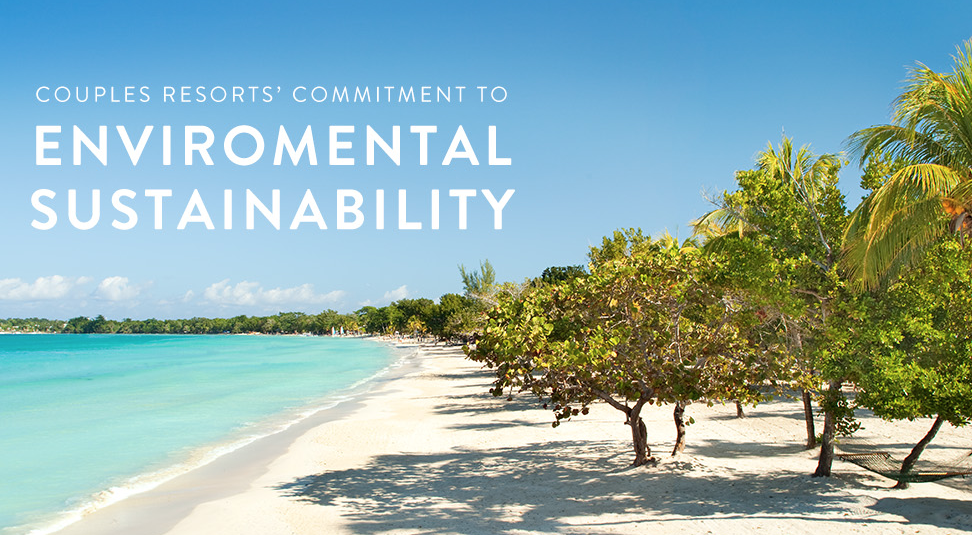 Owner Jane Issa puts it so nicely when she says, "We intent to do our part in keeping Jamaica clean and uncontaminated". Below we have outlined how our "Share the Love" mentality infiltrates all areas of our sustainability policy through education and programs throughout the family of resorts.
EARTHCHECK CERTIFIED
Each of our properties participates in, and passes, the annual global EarthCheck Certification Program and is committed to sustainability excellence.
REDUCE, REUSE, RECYCLE
Upon check-in, guests are gifted with sports water bottle souvenirs to use and refill throughout their stay. In doing so, we are proud to say that we have prevented an added half million discarded plastic bottles per year from ending up in Jamaica's landfills.
CARBON FOOTPRINT REDUCTION
We are constantly looking for ways to save energy, so we are committed to discovering best practices on how to lower our carbon footprint. We promote open-air dining across resorts and have replaced all light bulbs with every-saving options.
LOCAL BEACH PRESERVATION
Our beaches are some of our most beautifully treasured assets and we commit to maintain them and fight for their protection.
WE SOURCE LOCALLY
At Couples Resorts, we love showcasing and supporting local artists and companies. From spa oils to construction contractors, we commit to using local companies who specialize in Jamaican artisanship to best relay to our guests the authenticity to our country and her people.
STAFF AWARENESS
We have an environmental supervisor at each resort to monitor energy wastage and to keep staff informed of sound environmental practices.
We love Jamaica and we love being able to share her with you each time you are welcomed home. To learn more about our sustainability practices and policies, visit our website: (link).
One love,
Carrie