1-876-632-8200
Check Availability
Already Booked?

Free Excursions
Free Golf + Scuba Diving
No Fault Cancellation
Roundtrip transfers from
the airport in Montego Bay
Guest Spotlight: The Childs
06 Mar, 2017
This month as part of our Guest Spotlight Series we are thrilled to share with you the incredible love story of Eric and Sharon Childs from Los Gatos, CA. They have renewed their vows THREE TIMES at Couples Swept Away and are quite the couple....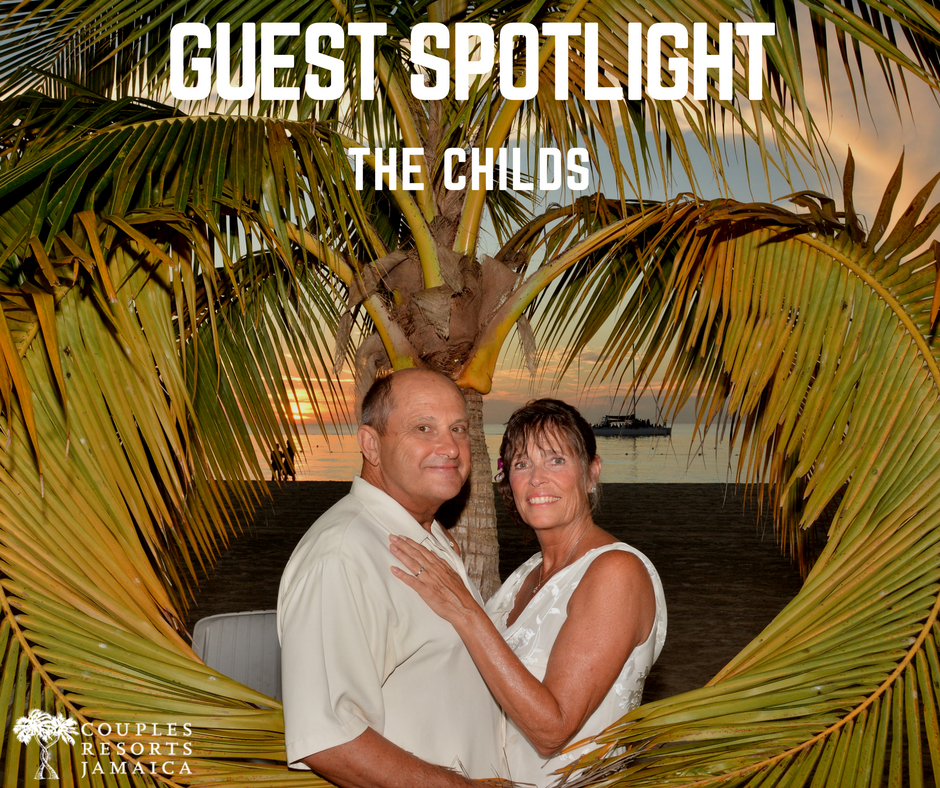 Carrie: How many times have you been to Couples Resorts, and which properties?
The Childs: We have been visiting Couples Swept Away since 1990. We watched the Great House area of the resort being built. We have been to CSA at least 15 times, we have lost count! Once you find paradise, no need to look any further. We missed 2014 and 2015 because I was diagnosed with Acute Myeloid Leukemia last year and received a bone marrow transplant in January of this year. We have already made our reservation for October 2017. Only 300 more days, but who's counting!
Carrie: How has Couples played a role in your personal love story?
The Childs: We have renewed our wedding vows at CSA three times. 20th, 25th, and 30th. The romantic feel of CSA makes us feel like it's the first time each time.
Carrie: What are the top three pieces of advice you would give to a first-time guest at Couples?
The Childs: The three pieces of advice for first-time guests would be; first put your social media devices away and use the romance of the resort to carry you away to paradise. Take advantage of the orientation walk as soon as possible so you can learn the different things you need to make reservations for, that way you won't miss out on anything you want to do. You will make friends and "learn the lay of the land." Sit on the beach as the sun sets and wait for the tree frogs to start their serenade.
Carrie: In your opinion, what makes Couples so unique?
The Childs: For us the athletic facility makes CSA unique. We are avid exercise people and there isn't another place we have found that has such a wide array of classes, equipment and workout opportunities.
Carrie: In a single word, describe what Couples means to the two of you.
The Childs: Relaxing!
Carrie: Which staff members or fellow guests do you most look forward to seeing when you return?
The Childs: We look forward to seeing Karen, the General Manager. She walks the property everyday checking on the guests and staff to assure everyone is happy. Dale in the office. We first met him when he was working the reservations desk. He always checks to make sure we are enjoying our stay and has a smile for everyone. Shirley, the head of housekeeping has always made sure we are comfortable. We witnessed Nathan and Michelle Koep's wedding in 2011 and reunited by accident in 2013. It would be awesome to see them there again! We also would love to see another couple whose weddings we witnessed, Benjamin and Sarah Coffee. And of course our friends from Midland Texas; Josh and Kendal.
Carrie: Fill in the blank: Our ideal day at Couples consists of______
The Childs:Lying in bed hearing the resort come alive from our room early in the morning. Then we go to the athletic facility for a workout. We usually make it to breakfast at the Palms before they stop serving. With a Bloody Mary in hand we hang out at the main pool to take advantage of whatever class is being offered that morning. We have learned to speak Patois, history of Negril, and how to make Margarita's doing this! Then it is time to take a walk on the beach and enjoy a few cocktails before our afternoon nap. Appetizers at Seagrapes is a must to hold us over until dinner. We always eat dinner early either at Feathers or the Palms. If we eat at the palms we stay to enjoy the nightly entertainment. We like to enjoy our veranda for a while with a night cap because we decorate it with lights to make it more romantic.
Thank you, Eric and Sharon, for sharing your story! We look forward to welcoming you back home soon...
One love,
Carrie