1-876-632-8200
Check Availability
Already Booked?

Free Excursions
Free Golf + Scuba Diving
No Fault Cancellation
Roundtrip transfers from
the airport in Montego Bay
Why a Private Romantic Dinner is Always a Good Idea
16 May, 2016
Hi Couples family,
I recently when on my babymoon at Couples Sans Souci, and one of our favorite highlights of the trip was the private gazebo dinner. While my husband and I love all-things Couples and all-things all-inclusive, we rarely go out on a limb to experience the other paid offerings the resorts have to offer (aside from the spa, of course!). Well, this trip was different. Because we were celebrating our upcoming new life venture as soon-to-be parents, we wanted to make this trip extra special. My husband Bryan took the lead by surprising me with a morning facial at Charlie's Spa (pregnant lady approved!), followed by a note in the room that we had a private dinner reservation that night in the wedding gazebo. (He's a keeper!).
We spent the rest of the day by the beach, relaxing and reading, and I was so excited for the private dinner that I could hardly wait to run back to the room to get ready and see what was in store for us!
As we walked up to the wedding gazebo, the ambiance was so beautiful, and truly romantic. We were greeted by our waiter Daren and were ready to enjoy the experience.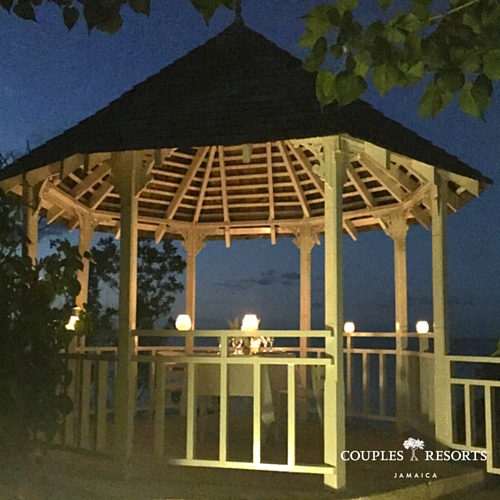 Daren was fantastic, and our evening started off with champagne for Bryan, and a sweet non-alcoholic champagne for yours truly. I have to say, one of the toughest parts of being pregnant for me is feeling a lackluster of excitement when in festive social situations and you are toasting with water or lemonade. This added touch went a long way in my book, and it was delicious!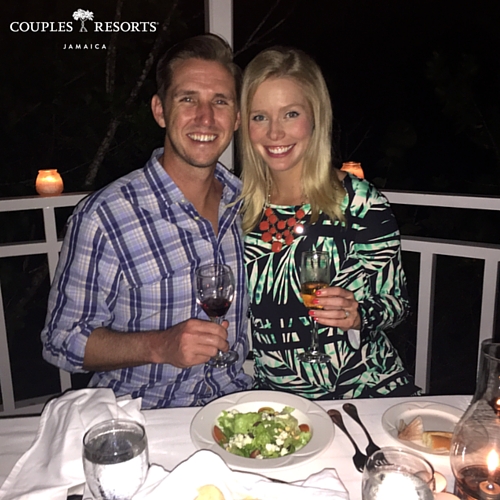 Listening to the sounds of the waves crashing below, we snacked on warm, fresh bread and salads. We started to chat about our expectations for later this year when we would welcome a sweet baby girl into the world as our own, and how we dreamt of raising her. The night was perfect. After our first course, we were then served a beautiful Surf & Turf with fresh lobster and filet mignon (how can you go wrong?!).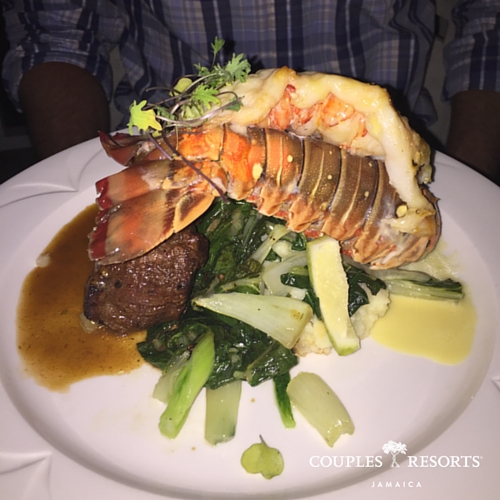 We ended the evening with a night cap. Bryan had red wine, and I had more of the festive pregnancy-approved champagne. We nibbled on chocolate caramel tarts that were just as decadent and delicious as the rest of the meal, then headed back to our room to drift away with sweet dreams of our happy dinner at our happiest place on earth, Couples Sans Souci.
Have you had a private dinner experience at one of our resorts? If so, would love to hear what you enjoyed the most in a comment below!
If you want to learn more about ways you can enhance your stay while on property, visit our Romance Concierge online service here.
One love,
Carrie