1-800-COUPLES
Check Availability
Already Booked?

Free Excursions
Free Golf + Scuba Diving
No Fault Cancellation
Roundtrip transfers from
the airport in Montego Bay
Recipe Time: Caribbean Surf & Turf
31 Jul, 2017
Couples family -
We sat down with Morice Lewis, the Executive Chef at Sans Souci to share his favorite summer main dish with us all, a Caribbean Surf & Turf. See below for all the mouth-watering details: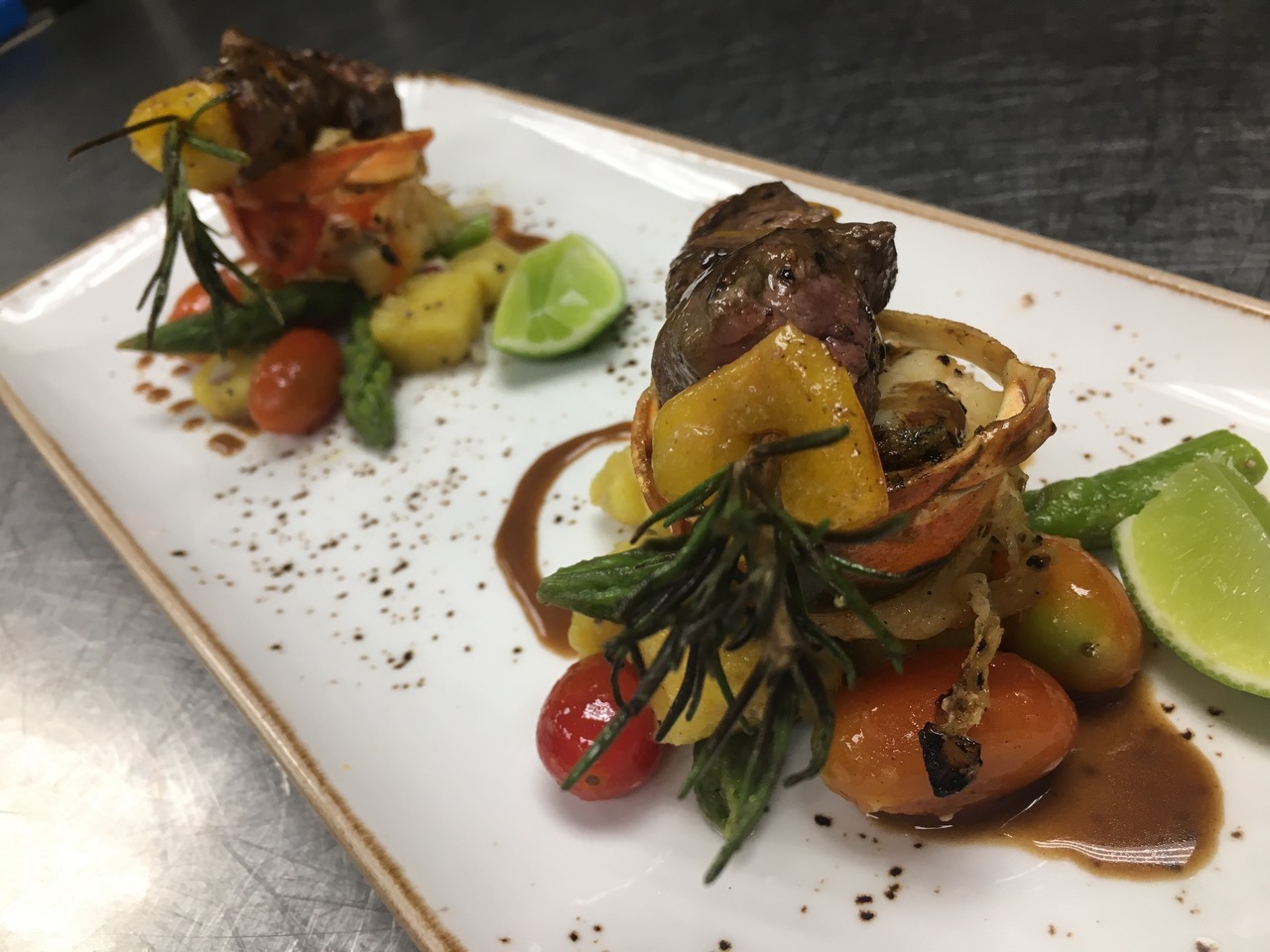 Rosemary Skewered Grilled Beef Tenderloin / Citrus Splashed Seared Lobster Medallion – Warm Sweet Potato Salad / Blistered Baby Tomatoes / Asparagus, Balsamic Jus
Recipe below for two people
Ingredients for Beef:
Beef Tender Loin Cubes 300 gr
Large diced Yellow Peppers 1 each
Chopped Rosemary 1 tbsp
Pimento Crushed 1 teasp
Rosemary Skewer 2 ea Fresh Rosemary Twigs
15 ml Olive oil
Salt (To taste)
Cracked Pepper (To taste)
Chopped Scallion 2 tbsp
Chopped Onion 2 tbsp
Beef Jus 150 ml
Balsamic Vinegar 4 tbsp
Ingredients for Lobster:
Lobster Tail cut in medallions 200 gr
Large Orange 1 ea
Salted Butter 100 gr
Chopped Garlic 1 tbsp
15 ml Olive oil
Salt (To taste)
Cracked Pepper (To taste)
Chopped Onion 1 tbsp
Ingredients for Sweet Potato Salad:
Sweet Potato peel & diced 150 gr
Cherry Tomatoes 1 cup
Asparagus 6 ea spears
Olive oil 4 tbsp
White vinegar (To taste)
Small Diced Onions 1 tbsp
Water 700 ml
Salt (To taste)
Cracked Pepper (To taste)
Fresh Basil 2 tbsp
Fresh Cilantro 2 tbs
Method for Rosemary Beef Skewer:
Season beef with salt and pepper and all the chopped ingredients including crushed pimento and a dash of olive oil. Put beef cubes on rosemary skewer with diced pepper one after the other - you should have 3 cubes of beef and 3 pieces of diced pepper on each skewer.
Pre-heat a heavy frying pan. Add 1 tbsp olive oil and add the skewers. Cook for 2 minutes on each side (or more or less depending on how much you like your beef cooked)
Remove skewers. Add the vinegar and reduce by half. Add the Beef Jus and simmer for 1 minute. Keep warm.
Method for Lobster Medallion:
Season lobster with salt and pepper and the chopped ingredients, squeeze juice from orange over the lobster add 15 ml olive oil, cook in a grill pan (or on the grill) for about 2 minutes on each side.
Add butter towards the end of cooking
Method for Sweet Potato Salad:
Put water on fire in a small pot, bring to a boil and add sweet potatoes, allow to cook until tender remove from heat and drain.
Boil asparagus in salt water until tender. Remove and cool quickly under running water (or in ice water) Drain and add to potatoes in a bowl.
Sauté tomatoes in a small heated frying pan for one minute (with a little olive oil). Remove from pan and add to bowl with the rest of ingredients Add diced onions, olive oil and vinegar and toss. Adjust seasoning with salt and pepper.
Add freshly chopped herbs last