1-876-632-8200
Check Availability
Already Booked?

Free Excursions
Free Golf + Scuba Diving
No Fault Cancellation
Roundtrip transfers from
the airport in Montego Bay
Recipe Time: Poached Egg Spring Garden Salad
30 Mar, 2017
Anyone else craving some healthy, hearty spring meals this time of year? We asked Couples Tower Isle Executive Chef Valentine McKenzie to walk and talk us through a fresh take on a traditional garden salad. Trust me, you are going to want this recipe. . .
Spring Garden Salad / Poached Egg / Crispy Bacon / Jamaican Cassava Bammy Sticks / Passion Fruit Mustard Vinaigrette (Serves 2)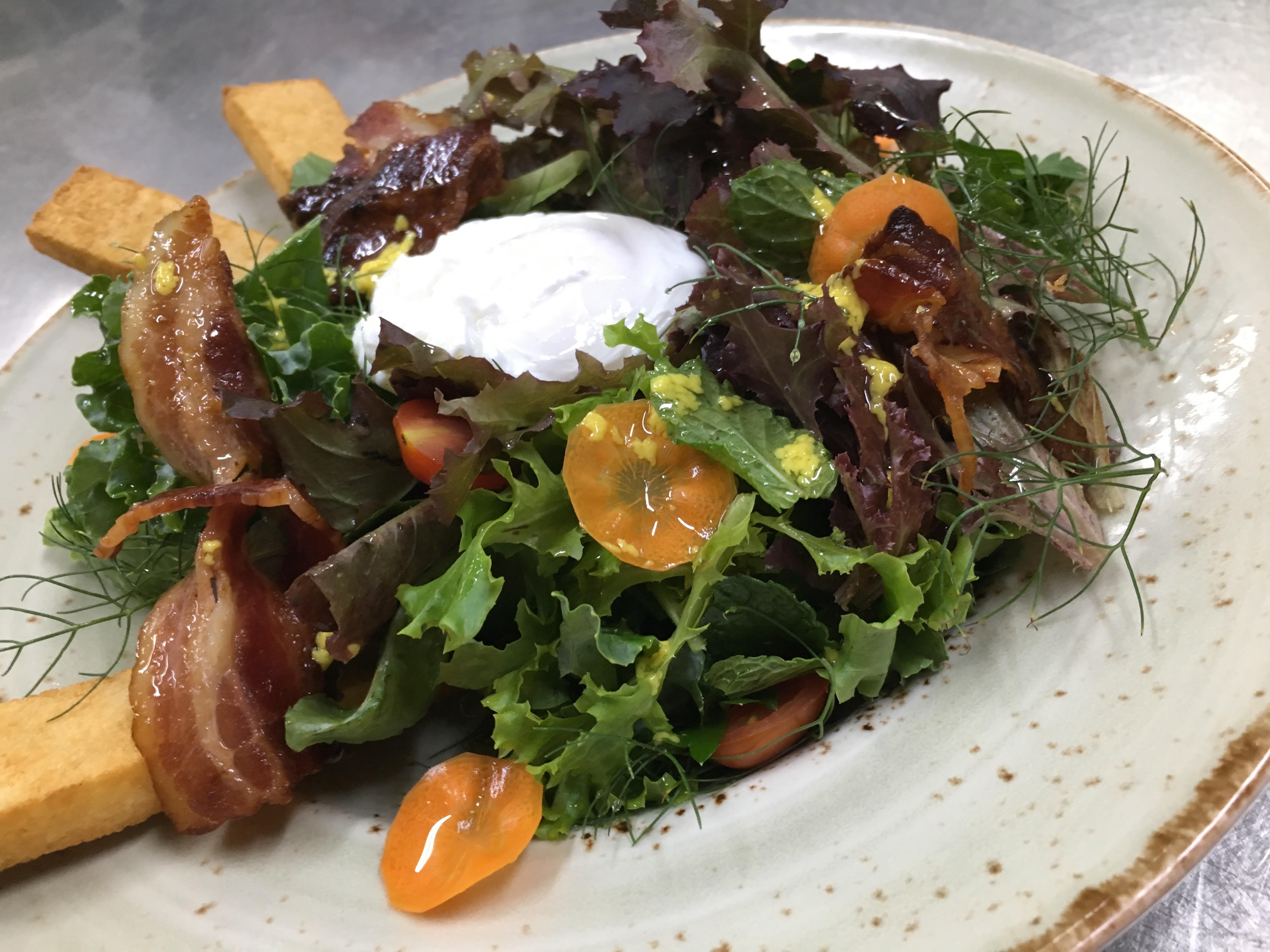 Gather your favorite salad greens mix - about 2 cups each
1/2 cup cherry tomatoes
1 small carrot peeled and cut into thin slices
Small bunch of picked dill & mint
Mix all above ingredients in a large bowl
Dressing
1 tbsp Dijon Mustard
1 clove garlic - finely chopped
1 teasp freshly chopped parsley
1 tbsp finely chopped red onion
1 tbsp white wine vinegar
1 fresh passion fruit - juice
4 tbsp olive oil
salt & freshly ground pepper
Using a whisk, mix mustard with onion, herbs, garlic and vinegar.
Add passion juice
Slowly add olive oil
Season with salt and pepper
Cassava Bammy Sticks
1 large round piece Cassava bammy - cut into 1" sticks
2 cups milk
Salt & black pepper
1 cup olive oil
Soak mammy in milk for 2 hours (in fridge)
Heat olive oil and fry mammy until crispy
Drain on a paper towel
Season with salt
Poached eggs
2 fresh eggs
Small pot with boiling water
4 tbsp white wine vinegar
Add vinegar to boiling water
Break eggs (one at the time) into a cup and add to boiling water
Poach eggs in the very lightly boiling water for about 3 minutes - depending on how firm you'd like the yolk to be
Remove and pad dry on a kitchen towel
6 each slices of bacon - cooked until crispy
Toss salad with salad dressing
Arrange on large plates
Place eggs on top
Finish with crispy bacon and fried bammy
ENJOY!