1-876-632-8200
Check Availability
Already Booked?

Free Excursions
Free Golf + Scuba Diving
No Fault Cancellation
Roundtrip transfers from
the airport in Montego Bay
Staff Spotlight: Anecka Trusty
20 Mar, 2017
Have you seen this smiling face at Couples Sans Souci from behind the bar? It's the lovely and talented Anecka Trusty! She is lots of fun and an award-winning bartender, so pour yourself your favorite beverage as we learn more about Anecka. . .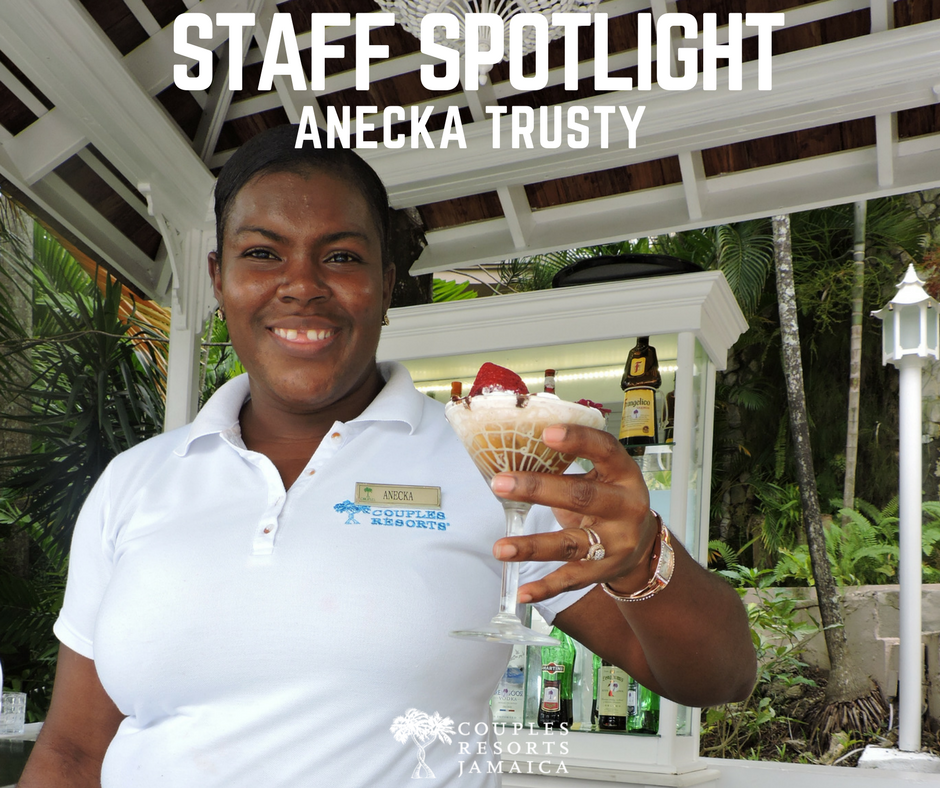 Carrie: How long have you been employed to Couples Resorts?
Anecka: 3 years

Carrie: What do you like most about your job?
Anecka: It's a lot of fun…Entertaining. The best part of my job is the customers. The opportunity to meet people from all over the world; job doesn't allow you to get complacent and allows you to always be moving.

Carrie: How has working for Couples Resorts impacted your life?
Anecka: It has made my life very fulfilled. It is not just about serving drinks, but about making people happy. I consider myself a comedian, a counsellor and a therapist.

Carrie: What is your favorite food/dish?
Anecka: Ackee & Saltfish with boiled banana, yam and fried plantain.

Carrie: Is there a particular person who motivates/inspires you at work?
Anecka: My manager- Suzette Keane. She is always pushing me to do more even when I think I have reached my limit.

Carrie: Tell us a bit about your family life.
Anecka: I am a mother of 4. (2 girls: Christina 11 and Ashley 7. 2 boys: Justin 9 and Roman 1 year 5 months). They put the fire in me to do my job even better.

Carrie: What is your most memorable moment or interaction with a guest?
Anecka: There are so many but if I have to choose one it would be when I gave a guest one of my Signature Specials and he smiled and said "this is the best drink I have ever had".

Carrie: Describe Couples Resorts in one word...
Anecka: ROMANTIC – R- radiant; O- Outstanding M- Magestic A-Amazing; N-Natural; T- Therapeutic; I- Incredible C- Captivating

Carrie: Greatest achievement to date?
Anecka: Winning bartender of the year Culinary Competition in the rum category for 2016

Carrie: How did you get into your current role?
Anecka: I started doing it for fun because my mother has a bar. I was given the opportunity to work in the tourism industry I thought I wouldn't like it because it looked easy and I love a challenge but I was in for a surprise! At first it was very hard but as time went by bartending and I are like magnet to steel.

Carrie: In your opinion, what makes CSS so unique?
Anecka: The location and staff. The way the resort is tucked into the mountains and so many undiscovered places. I myself am sometimes surprised when I walk the property and see places that I still hadn't known all the years I have worked here. The staff are just Amazing, always going the extra mile to ensure customers are satisfied.
Next time you are at Couples Sans Souci, be sure to ask Anecka to make you a "Between the Sheets" Martini. . . yah, mon!
And a little more about Anecka . . .
Recent accomplishments: October 2016 Culinary Federation Taste of Jamaica Competition
Rum Category- Bartender of the Year, Gold Medal
Vodka Category- Silver;
Overall Bartender of the Year 3rd Place- Bronze
Award Winning drink:
Rum Fire Martini- Rum category
Vx infused with cinnamon and honey
Passion fruit
Orange, pineapple, apricot brandy..
Mix all together with orange slice on top
Flame with overproof rum

ENJOY :)
Carrie