1-800-COUPLES
Check Availability
Already Booked?

Free Excursions
Free Golf + Scuba Diving
No Fault Cancellation
Roundtrip transfers from
the airport in Montego Bay
Staff Spotlight: Deston Smith
19 Sep, 2016
It's time of the month, where we showcase one of our incredible staff members. This month, we are highlighting Deston from Couples Negril. Read more to learn about this fun Guest Services agent and what he loves most about his role at Couples Resorts.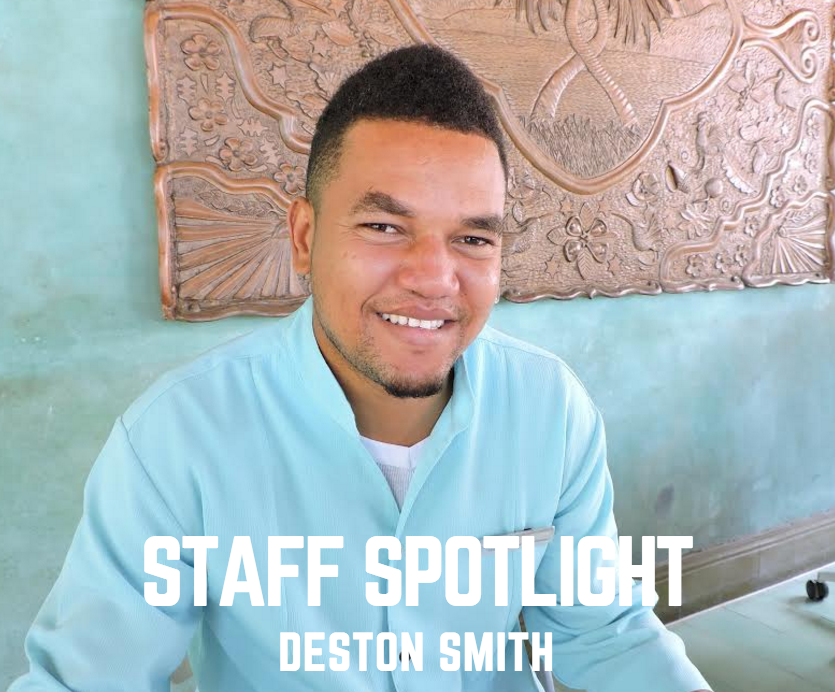 Carrie: How long have you been employed to Couples Resorts?
Deston: 9 Years
Carrie: What do you like most about your job?
Deston: The opportunity to meet different people from all over the world.
Carrie: How has working for Couples Resorts impacted your life?
Deston: Greatly. It has aided me in being a more rounded person, developed my interpersonal skills in dealing with staff and guests and also to be a more patient person.
Carrie: What is your favorite food/dish?
Deston: Pork/Pigtail with white Rice.
Carrie: Is there a particular person who motivates/inspires you at work?
Deston: Onique Reid – Front Office Manager and Gary Stephens – VP of Operations.
Carrie:Tell us a little bit about your family life.
Deston: Well, I am currently involved in a relationship.
Carrie: What is your most memorable moment or interaction with a guest?
Deston: I enjoy dining with myrepeat guests and feel proud when I am introduced by my General Manager to receive aresounding applause. It makes me realize how appreciated I am by guests.
Carrie: Describe Couples Resorts in one word...
Deston: Awesome!
Carrie: What is your greatest achievement to date?
Deston: Because of Couples Resorts and their commitment to improving Staff achievements, I was able to be selected to become certified in Wedding Planning through (WPIC).
Carrie: How did you get into your current role?
Deston: I was working in housekeeping, cross trained in sales then the position came available I applied for the position and got it.
Carrie: In your opinion, what makes CN so unique?
Deston: Definitely the Staff
Thank you, Deston, for your time and for all your hard work!
Carrie