1-876-632-8200
Check Availability
Already Booked?

Free Excursions
Free Golf + Scuba Diving
No Fault Cancellation
Roundtrip transfers from
the airport in Montego Bay
Staff Spotlight: Milton Lewin
21 Jun, 2017
For this month's Staff Spotlight feature, we are showcasing the one and only Milton Lewin, Entertainment Coordinator/Social Director at Couples Sans Souci, who is the epitome of FUN!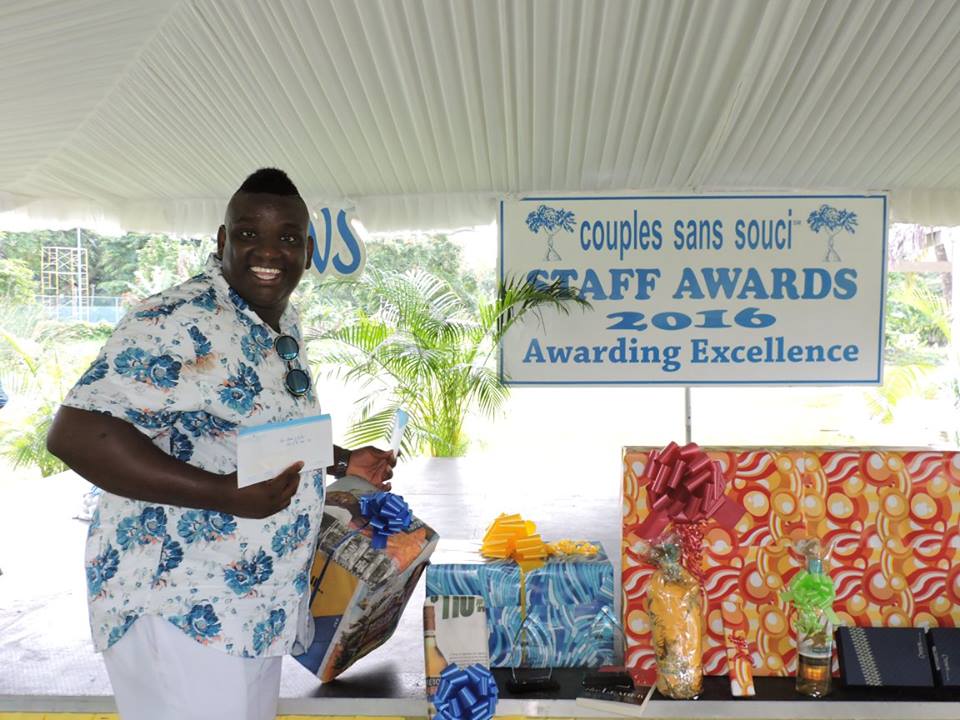 1. How long have you been employed to Couples Resort?
I have been employed to Couples Sans Souci for 6 years
2. What do you like most about your job
What I like most about my job is the fact that I get to be creative and work as a team. I enjoy working with my coworkers and interacting with guests which my job allows me to do daily.
3. How has working for Couples Resort impacted your life?
Working with couples has impacted my life in a positive way. I always wanted to work upon leaving high school and my mom and I had a discussion regarding the choices I had- working or going to university. We agreed on working for three months and then we would take it from there…. Here I am though today 6 years later at Couples Sans Souci. I understand and cherish life and part of growing up is working but plans are in place to return to continue my schooling in the future. Today I am pleased to say that my job has allowed me to own my own furnished house, being able to travel for vacations and to assist needy children in my community.
4. What is your favorite food/dish?
My favorite food is Corned Beef with white Rice accompanied by Orange Juice and water.
5. Is there a particular person who motivates/inspires you at work?
There are a lot of persons who motivate me at work: my coworkers, my boss Alex Welcome, but most of all the resorts Front Office Manager Nicola Barker. There is never a day that goes by and I don't receive a call or text from her with a joke or some motivational words which puts a smile on my face no matter what mood I am in. She is also very approachable and someone I can go to to 'bounce my ideas off'. Nicola is always ready and willing to assist and is like a mother to me.
6. Tell us a bit about your family life.
I am single with no children, I am from a family consisting of two sisters and a brother.
7. What is your most memorable moment or interaction with guest?
My most memorable moment: I met a couple who were together for over 15 years and not married. During their stay, we had a conversation about marriage and the happiness it brings. The following year when they returned, they decided to get married and I had the pleasure of being their Best Man.
8. Describe Couples Resorts in one word.
(SUPERCALIFRAGILISTICEXPIALIDOCIOUS)-Extraordinarily Good.
9. What is your greatest achievement to date?
Greatest Achievements to date? I have received 10 plaques 5 for most mentioned by guest, 3 for Employee of the Month, 1 for Employee of the Year 2016 and 1 for Environmental safety warden for year 2016. Recently I added the most important one to date in our recent Staff Awards- I am now the employee of the year 2016, the most active environmental warden 2016 and also most mentioned staff by guest for my department.
10. What are your top 3 moments with guest with thus far while working with Couples Resorts.
My top three moments are attending Managers cocktail, attending repeaters guest dinner and most of all executing my duties especially Dance class, Trivia and Table Tennis Tournament etc.
11. How did you get into your current role?
I started out in the restaurant as a dining room server and covering duties in room service. I was also tasked with working weddings, private dinners and any other private functions hosted at or by the resort. I am very jovial, creative, easy going and enjoy communicating. My coworkers, the Entertainment team leader, the restaurant manager and the guest always made suggestions to the General Manager about me switching over to Entertainment… The General Manager did an Interview and here I am.
12. In your opinion, what makes your resort so unique?
First let me start with the name Couples Sans Souci which means "Without a care"… we have an Energetic General Manager Mr. Pierre Battaglia, who motivates and encourages us every day. The wonderful sunset beach, the greenery of the property with an active Environmental and sports club along with capable, willing and friendly staff. We have a high ratio of repeat guests every week and the resort has also received many acclaimed awards worldwide with one of the latest being The Regional and National Champion for the Tourism service excellence awards recently held in Montego Bay.
As described below by multi repeat guest Chris…
"He is Real, REAL on and off the court. Tireless master of smiles. Such a blessing to Couples, his family & friends and all the guests whose heart he touches! Maximum respect"! Chris & Debbie

And that's the truth! Anyone who has ever had the pleasure to meet this wonderful soul will realize how truly blessed they are! Milton, or 'Milly as I call him is really one of the sweetest persons you will ever meet and is always sporting that one important element…A smile.
One love,
Carrie