1-876-632-8200
Check Availability
Already Booked?

Free Excursions
Free Golf + Scuba Diving
No Fault Cancellation
Roundtrip transfers from
the airport in Montego Bay
Staff Spotlight: Pierre Battaglia
28 Mar, 2016
Hi Couples family,
This month we are featuring General Manager Pierre Battaglia, General Manager of Couples Sans Souci as part of our Staff Spotlight Series. Did you know that Mr. Battaglia was formerly an Executive Chef and started his career in the hospitality industry as a kitchen trainee in Paris? Read the full interview below to learn more about our wonderful resort GM at Couples Sans Souci, Pierre Battaglia.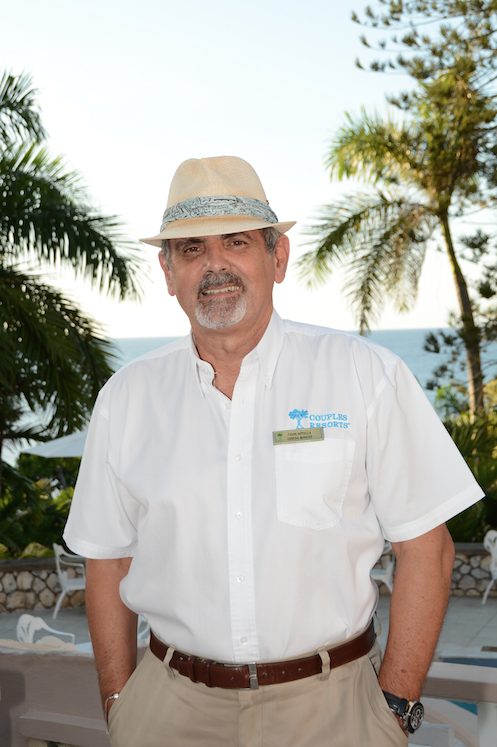 Carrie: How long have you been employed to Couples Resorts?
Mr. Battaglia: Since Sept. 2005, over 10 years
Carrie: What do you like most about your job?
Mr. Battaglia: The opportunity to work in a unique environment and to be able to manage a team of professionals in the service industry.
Carrie: How has working for Couples Resorts impacted your life?
Mr. Battaglia: Working with Couples Resorts has been an intense, rewarding and enjoyable experience. I can incorporate aspects of work and social life together.
Carrie: What is your favourite food/dish?
Mr. Battaglia: Being a former Executive Chef I have been exposed to many experiences in different cuisines and also been able to live in France, Italy, Belgium, England, USA and Jamaica. The fact that I live in Jamaica I enjoy ackee & salt fish, stew peas and curried goat.
Carrie:. Is there a particular person who motivates/inspires you at work?
Mr. Battaglia: There is no particular person. Being the General Manager of the resort is a daily task for me to motivate myself and my team to reach goals that are set. The work surrounding and the customer relations give me the continuous inspiration to improve in my work.
Carrie: Tell us a bit about your family life.
Mr. Battaglia: The lost of my wife Sharon a few years ago and that event definitely caused some changes in my family life. I am proud to see my two sons be successful in their career and they give me more strength to continue.
Carrie: What is your most memorable moment or interaction with a guest?
Mr. Battaglia: I have so many memorable moments, but having seen when guests express that their vacation experience was way above what they had expected because of the little touch that I created it makes me feel great.
Carrie: Describe Couples Resorts in one word...
Mr. Battaglia: Stress-free
Carrie: What is your greatest achievement to date?
Mr. Battaglia: In my 40 years of my career I have achieved many awards both as Executive Chef and General Manager but the greatest of all is to create an experience for guests which results in them keep returning to the resort year after year.
Carrie: How did you get into your current role?
Mr. Battaglia: I have spent 40 years in the hotel industry and have grown in many positions which give me the opportunity to garner the skills and experience starting as a Kitchen Trainee in Paris to now General Manager at Couples Sans Souci.
Carrie: In your opinion, what makes CSS so unique?
Mr. Battaglia: A commercial establishment where guests can enjoy an exclusive location and excellent service in a peaceful setting.
On behalf of the team at Couples Sans Souci and those guests who call CSS "home", we would like to thank you for all of your hard work and dedication to such a special place, Mr. Battaglia.
One Love,
Carrie