1-876-632-8200
Check Availability
Already Booked?

Free Excursions
Free Golf + Scuba Diving
No Fault Cancellation
Roundtrip transfers from
the airport in Montego Bay
Staff Spotlight: Shellyann Simpson
10 Aug, 2015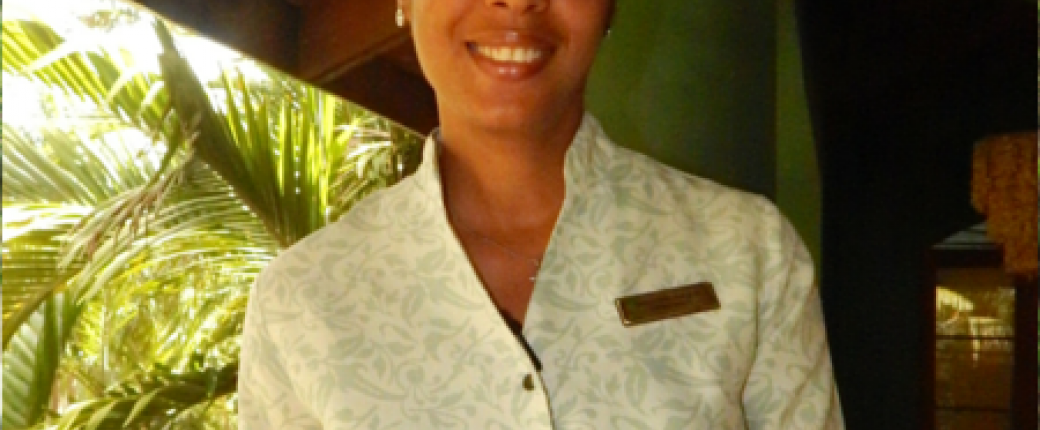 Hi Couples family,
It is that time of month again to showcase one of our wonderful staff members. Today, we celebrate Shellyann Simpson, Guest Relations Manager at Couples Swept Away. We sat down to Shellyann to discuss why she loves Couples Resorts so much and why her job is the best. Read more . . .
Carrie: How long have you been employed to Couples Resorts?
Shellyann: I have worked for Couples Resorts for over 17 years.
Carrie: What do you like most about your job?
Shellyann: That's a tough question. I love getting the opportunity to create lifelong memories for our guests and getting to see them over and over again on-property.
Carrie: How has working for Couples Resorts impacted your life?
Shellyann: It has allowed me to appreciate more of how beautiful my Island and people are, and has made me more confident and patient each day.
Carrie: What is your favorite food/dish?
Shellyann: I love white rice and stewed peas with pig tail
Carrie: Is there a particular person who motivates/inspires you at work?
Shellyann: Yes, absolutely. I take a lot of pride in motivating myself to always do my best.
Carrie: Tell us a bit about your family life.
Shellyann: I have a daughter, one sister, one brother, my parents are great motivators and I cherish my family values.
Carrie: What is your most memorable moment or interaction with a guest?
Shellyann: To be able to have genuine conversations about years of CSA visits and experience. Shared laughter about family and celebrations with repeaters like Renee & Bill, Abby & William, Ilse & Helmut, Judy & Mark, Helen & Ronald
Carrie: Describe Couples Resorts in one word...
Shellyann: Unique
Carrie: What is your greatest achievement to date?
Shellyann: I would have to say it is the birth of my daughter Abi-Gaile Stephenson
For all of you Couples Swept Away enthusiasts, what do you love most about Shellyann? Let us know in the comments section below!
One love,
Carrie