1-800-COUPLES
Check Availability
Already Booked?

Free Excursions
Free Golf + Scuba Diving
No Fault Cancellation
Roundtrip transfers from
the airport in Montego Bay
Staff Spotlight: Tadean Miller
26 Apr, 2017
Hi Couples family -
This month as part of our Staff Spotlight Series, we are featuring the lovely Tadean Miller, Group Customer Relations Coordinator for Couples Resorts. Read below to learn more about this wonderful woman and her story at Couples.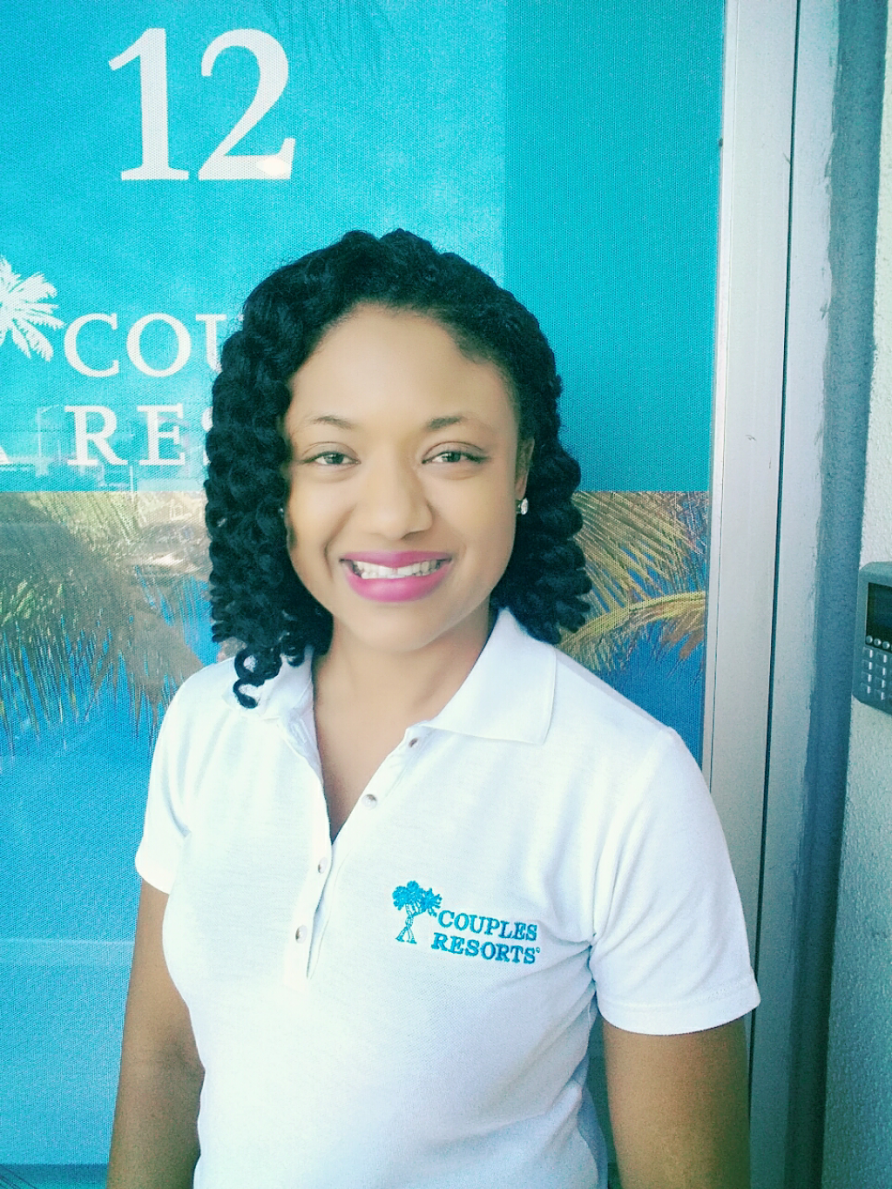 Carrie: How did you get into your current role?
Tadean: Applied for a promotion at the Couples Resorts Corporate Office in Montego Bay, was successful and have enjoyed it ever since.
Carrie: How long have you been employed to Couples Resorts?
Tadean: I have worked for Couples Resorts for over 13 years.
Carrie: What do you like most about your job?
Tadean: I enjoy communicating with our repeat guests and assisting clients to plan special events and book additional amenities to enhance their vacation experience such as honeymoon, anniversaries, birthdays and wedding proposals. It is a rewarding experience.
Carrie: How has working for Couples Resorts impacted your life?
Tadean: Working at Couples Resorts has helped me to be a more patient individual. It has helped me to enjoy and appreciate more of the small things in life. Things we normally take for granted.
Carrie: What is your favorite food/dish?
Tadean: My favourite dish is Jamaican Soup. I would have it for breakfast, lunch and dinner, 7 days a week.
Carrie: Is there a particular person who motivates/inspires you at work?
Tadean: Yes. I am a huge self-motivator. However, if I had to choose someone other than myself it would definitely be my Boss Sharie Gordon, the Director of Retail Sales and Customer Care. We work very well together and she gives me the opportunity to grow personally and professionally by allowing me to make decisions on my own and to expand my knowledge outside of my job description.

Carrie: Tell us a bit about your family life.
Tadean: I am the eldest of 3 children and only daughter for my mother who I admire immensely for her hard work. I am originally from the parish of Hanover. However, I currently reside in Montego Bay St. James with my spouse and my adorable son.
Carrie: What is your most memorable moment or interaction with a guest?
Tadean: While working at Couples Swept Away I had the opportunity to meet a guest that had terminal cancer. She was in her 20s and was wheelchair. She had a machine that assisted her to breathe. I was in communication with her husband prior to their arrival and we planned and made sure that this being her last vacation was going to be the best vacation ever. On arrival when I met her and escorted her to her room for VIP check in service, we had the opportunity to have a deep, heartfelt one and one conversation. Although she only had a few months to live her outlook on life was so spectacular. Her strength was remarkable. She was so grateful for all that we were doing for her, she started crying and I cried with her too. This gave me a new outlook on life, to live each moment as your last and to be grateful and not take anything for granted no matter how small it may seem.
Carrie: Describe Couples Resorts in one word...
Tadean: Picturesque
Carrie: What is your greatest achievement to date?
Tadean: The birth of my son on May 14, 2015.
Carrie: In your opinion, what makes Couples Resorts so unique?
Tadean: I think the amazing staff is what makes Couples Resorts so unique.
Thank you, Tadean, for taking the time to be interviewed.
Do you have a Couples Resorts staff member you'd like to see featured? Email me at carrie@couples.com!
One love,
Carrie