1-800-COUPLES
Check Availability
Already Booked?

Free Excursions
Free Golf + Scuba Diving
No Fault Cancellation
Roundtrip transfers from
the airport in Montego Bay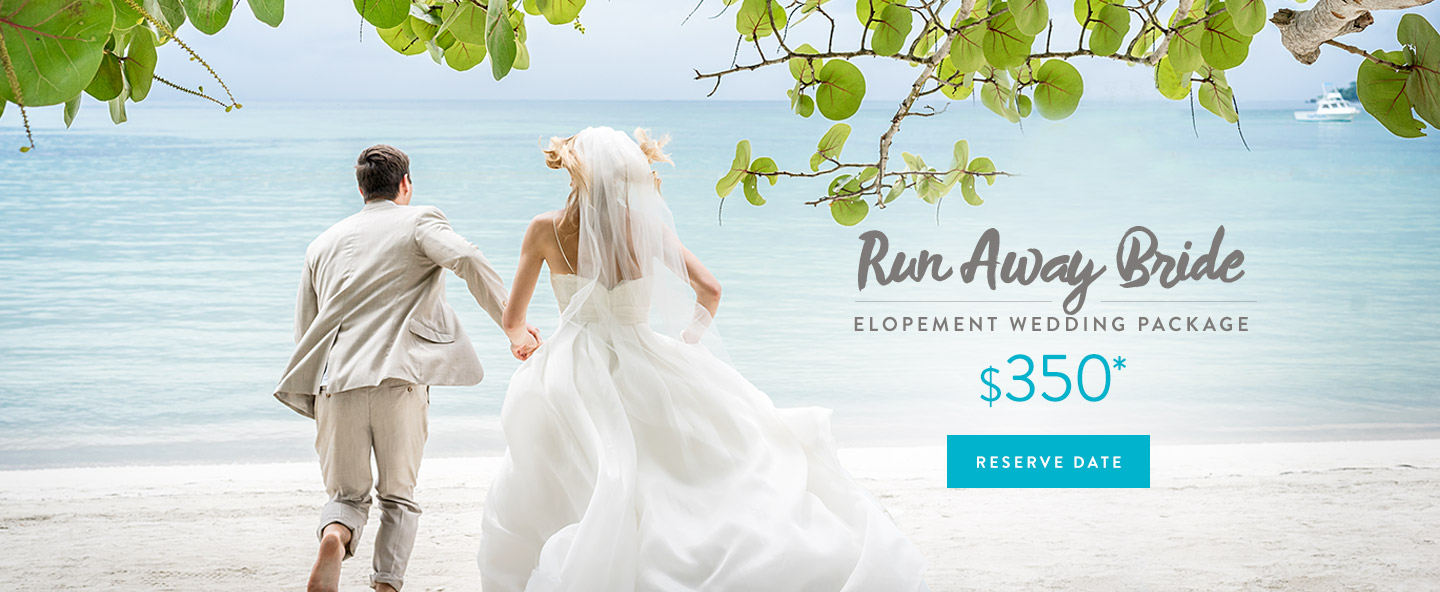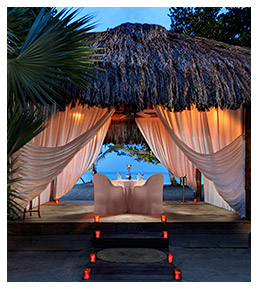 The Perfect "I Do" for Two
Celebrate the joy of spontaneity with our brand-new Elopement Wedding Package. Our wedding coordinators make it easy to plan a perfect (and perfectly romantic) elopement in an idyllic tropical paradise. Stress-free and significantly less expensive than a traditional wedding, this package features flowers, photos, a couples' massage, romantic private dinner on the beach and more. In other words, everything you need for a happier ever after.
What's included?
A spectacular wedding location on the beach or in the tropical gardens

Sparkling wine and wedding cake for 2 guests

Fresh bridal bouquet and groom's
boutonniere of your choice of purple
or white dendrobium orchids

Private dinner on the beach for two

Wedding officiant

Marriage certificate
25-minute couples' massage

Exclusive wedding/ honeymoon registry

Professional photo shoot:
One 8 x 10 printed photograph
Exclusive use of the resort's sound
system for MP3 Player/iPod

Automated online wedding calendar

On property wedding coordinator

Celebratory t-shirts for bride & groom
"Closest to Heaven we will ever get to"

My wife and I have been here 10 times in the past 12 years. That kind of tells you how we feel about Couples Negril. Like they say, "Welcome Home." The minute we get off of the plane and hear the metal drums and singing we know we are in for the vacation of our life. Fine gourmet food, top shelf liquor and it is never ending. We will return again and again!!!

- Mike L

"Jamaican Paradise!"

Intimate romantic resort. Friendly accommodating staff. Beautiful location. Entertainment whilst dining was a very nice touch. If you are looking for couples only resort then I would recommend this hotel!

- Julie M Shrewsbury, United Kingdom

"Best vacation, will come back!"

It was perfect! I will come back for sure. Premium food, premium drinks, premium service! It's a dream of a beach vacation. Perfect white sandy beach, you can walk out for a long while. Awesome games and activities everyday. Stuff that other resorts charge you to participate in is free here. No bracelets, the staff just know who you are! It's not crowded not too busy, really friendly guests. Love it, Just perfect.

- Tiff B Victoria, CA

"Another Great Stay!"

Very relaxing vacation once again. Our favorite in Caribbean. Great service with a smile. Wonderful fresh food. Very comfortable rooms. Best beach. I highly recommend Couples Resorts they do a great job.

- VermontFluffy, Vermont

"Amazing resort"

This place was one of the best resorts I've ever been to. It has amazing food, beautiful resort, clean, friendly staff, several adventures that are all included and the best beach you could ask for! I would recommend this place to everyone and cant wait to return!

- Sidney R Omaha, Nebraska

"Our home away from home."

Best beach, best staff. Small and so relaxing. The best go to place in the winter. Can't say enough on how much we love this place. Jerk chicken every day! Yum. Waters are pristine and the evening entertainment is exceptional.

- tjrempe Leighton, Iowa
**The Run Away Bride Elopement Wedding package is available for stays of 3 nights or longer for bookings made. Book Jan 1- Dec 31, 2019. Travel between Jan 1- Dec 31, 2019. There is a mandatory $15 per person charge for each additional guest attending your ceremony, as long as they are staying on property. For off-site guests please see information regarding our ceremony or day passes. Please see our General Wedding Terms & Conditions for more details. Please see our General Wedding Terms & Conditions for more details.
Thank You