This iconic resort features its own private island, fresh new guest rooms and chic, island style.
QUICK FACTS 218 Rooms & Suites
6 Restaurants, 5 Bars
4 Jacuzzis, 4 Pools
Private Au Naturel Island
Play Resort Video
The Essence of Island Style
Blending breezy island-chic style with Jamaica's flair for elegance and sophistication, Couples Tower Isle is Couples' flagship retreat on the lush coastline of Ocho Rios. A midcentury island playground for Hollywood's most famous celebrities, this tropical oasis continues to delight romantics of every age. Featuring its own private island just yards off the shimmering white sand beach and an oceanfront footprint that makes it easy to move from one sun-splashed spot to another, this all-inclusive boutique resort seduces with the island's finest farm-to-table cuisine, award-winning spa services and stunning views of tranquil turquoise waters that take your breath away from the moment you walk into the lobby.
Explore our Resort
What's Included
( Pretty much everything! )
Gourmet Dining
Unlimited Premium Brand Drinks
In-Room Dining
Nightly Entertainment
Unlimited PADI-Certified Scuba Diving
Water Sports
Activities
Golf
Tennis
Area Excursions
Complimentary Wi-Fi
Catamaran Cruise
View All Inclusions
"Great honeymoon spot!"

My husband and I honeymooned at Couples Tower Isle and we were so happy we chose this resort! It was completely romantic and beautiful and the entire trip was more than we could have ever imagined. The staff is friendly, the food is delicious, the beach is beautiful... everything exceeded our expectations!

Heather L Denver, Colorado

"Home away from home!"

Take the time to get to know the staff! They are an awesome group of people! Go on the Catamaran cruise! The rooms are bright, cheery and clean. The Veranda has fantastic food and so does Bayside (Asian). I can't say enough about this resort... trip number 4 will be in Aug 15!!!!

Jmscarb

"Best vacation ever!"

This is my second time in an all inclusive resort. Now I see why people rave about this hotel. Everything was amazing...room, food amenities, entertainment. But the best part of my stay was the staff. They are the gel that makes this place so amazing. Special thanks to Ann Julian at the front desk. She is a gem.

Claridonian

"The greatest vacation"

It was our second time visiting the resort. We brought two other couples with us this year. I didn't think it could have gotten any better, but it was. Private dinner on island - complete with personal chef. Dunn's River is always amazing. The food and entertainment was perfect. We may be going back for a third consecutive year.

Chad T, Los Angeles, California

"Excellent"

The remodel is great. We are frequent guests - yearly at the resort - due to the amenities and the people. Friendliest you will find on the island. Food and beverage are top shelf. Never had a bad meal or a bad server. The staff goes out of their way to please. A direct reflection of the management of the resort.

Greg B

"Spent a great week home"

This is my 4th time at a Couples Resort and all I have to say is THANK YOU COUPLES TOWER ISLE STAFF for reminding me how a vacation should be. Everyone goes above and beyond the to make us feel at home.

Ann S
Springfield Gardens, New York, United States

"Can't Wait to Go Back!!!"

This was an excellent trip! The people and staff were so sweet and friendly! I have not been so relaxed and pampered in a long time. My daughter got married and they went all out to ensure it was the most beautiful experience! We will never forget it. The room was large and so comfortable, the view was beautiful, and the spa was AMAZING!! I would go back in a flash and recommend this to anyone looking for a peaceful, yet exciting vacation.

Michelle C, Dallas, Texas

"No worries mon!"

Tower Isle is the first all-inclusive that I've gone to that is TRULY all-inclusive. The staff is extremely friendly and attentive which explains why so many couples we meet there return year after year. It will surely become a 'be back' place for us. The place is decorated like a South Beach boutique hotel with all the amenities including some very exceptional dining. And what more can you say about the beauty and weather in Jamaica but WOW! Just got back two nights ago and I'm planning our return. Every vacation should be like this one.

Alan K, Point Pleasant, New Jersey

"Everything said about Tower Isle is True!!!!"

My wife and I just returned from a seven day stay at Tower Isle; everything that has been said about it is true. We usually cruise, in fact we cruise often, but I think it will be awhile before I cruise again. I'm not given to superlatives, but everything was super; the ocean view, the staff, the service, the food, the amenities. We're already planning our return.

Steven K

"The best holiday ever!!"

We were picked up from the airport by the hotel bus, champagne on arrival at the resort. Our room was 5 star, absolutely beautiful. For the whole of our holiday the staff made us feel so welcome, the food was out of this world, the resort was everything we could have wished for and more. Would definitely return and have started saving already.

Catinatent, Birmingham, United Kingdom
SPECIALS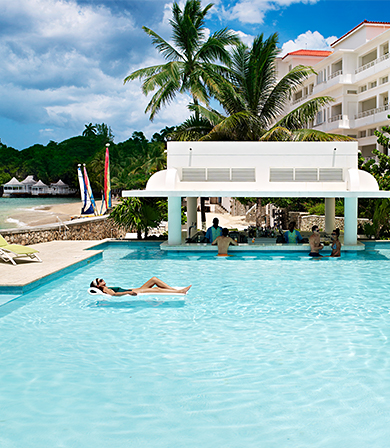 Towering Savings!
Starting at $183 PP/PN
+ $250 Instant Credit*
Plan an enchanting escape together at Couples Tower Isle and enjoy a $250 instant credit to get you going on your way towards total vacation bliss. Get ready to make new memories to last a lifetime. Seven night minimum required.

LOCK IN THIS OFFER BY DECEMBER 31, 2016!
More Details
View all Specials
Ocho Rios
Discover things to do in Ocho Rios, Jamaica.
Learn More
Couples Community
Chat with our Chief Romance Officer, share stories and pictures of your Couples wedding or honeymoon, and discover a community of loyal guests and Couples enthusiasts.
Trending Topics: