ALL THE EXTRAS,
AT NO EXTRA CHARGE.
WANT MORE?
LET'S GET STARTED.
Couples Resorts
Close
Book On
Couples.com
For the Best Price
Free
Excursions
Free Golf
+ Scuba Diving
+
No Fault Cancellation
Roundtrip transfers
from the airport
A Safe & Stress-Free Stay
Always Wonderful
Once again, going home to this precious resort was wonderful! CN was as beautiful as ever, the room clean and bright. Staff welcomed us back, as family members would. Sanitation and Covid protocols are being followed, precisely, in order to keep guests safe.
Swept Away Again
This was our third trip to Swept Away and we enjoyed it even more than the first two times. The Front Desk was able to change our room at check-in to the ground floor to accommodate my knee problem. Beach and weather was beautiful, as per usual.
"Covid Trip? No Problems Mon"
We were on the fence when the CDC said we had to test negative to get back to the USA. Couples stepped up and said that they would cover the cost for the test for all US travelers. Done deal, we went. Best thing we ever did. Thank you Couples for stepping up to cover that.
"Thanks for making it so safe and easy."
Couples had a sanitized room to wait in until they were ready for us to take a covid test. In all it was a total of 10 min out of our day. They were friendly and informative. Now we are at the bar and heading to the beach. Ya mon. Thank you couples for making it so safe and easy. We will see you in April.
Now and Forever
Begin the journey - or write the next chapter to your love story – at Couples, Jamaica's favorite all-inclusive luxury resorts. From Ocho Rios to Negril, our four oceanfront hotels were built on one idea: true love is the trip of a lifetime.
Learn More
All Inclusive
Luxury Experience
everything you love,
with no limits
24-HOUR

GOURMET DINING

UNLIMITED

PREMIUM WINE & COCKTAILS

CUSTOMIZED

IN-ROOM MINI BAR

NIGHTLY

ENTERTAINMENT
GOLF

& TENNIS

UNLIMITED

SCUBA DIVING

UNLIMITED

WATERSPORTS

CATAMARAN

CRUISE
AREA

EXCURSIONS

TRIP TO

DUNNS RIVER FALLS

TRIP TO

POPULAR SUNSET BAR

AND MUCH MORE!
Learn More
THE BEST ALL-INCLUSIVE LUXURY RESORTS IN JAMAICA
Another Great Stay
Very relaxing vacation once again. Our favorite in the Caribbean. Great service with a smile. Wonderful fresh food. Best beach.
- Vermontfluffy, Vermont
Perfect honeymoon resort!
Everyone was fantastic!! I highly recommend this resort. You will not be disappointed!
- jamy E, alabama
Amazing Resort!
Beautiful resort, friendly staff, and the best beach you could ask for!
- Sidney R, Omaha, Nebraska
Our Home Away From Home
Best beach, best staff. Small and so relaxing. Can't say enough on how much we love this place.
- Tjrempe Leighton, Iowa
Best vacation, will come back!
It was perfect! I will come back for sure. Premium food, premium drinks, premium service! It's a dream of a beach vacation. Love it, just perfect!
- Tiff B, Victoria, CA
Closest to heaven we will ever get to
My wife and I have been here 10 times in the past 12 years. That kind of tells you how we feel about Couples Negril.
- Mike L
Jamaican Paradise!
Intimate romantic resort. Friendly accommodating staff. Beautiful location. Entertainment whilst dining was a very nice touch.
- Julie M Shrewsbury, UK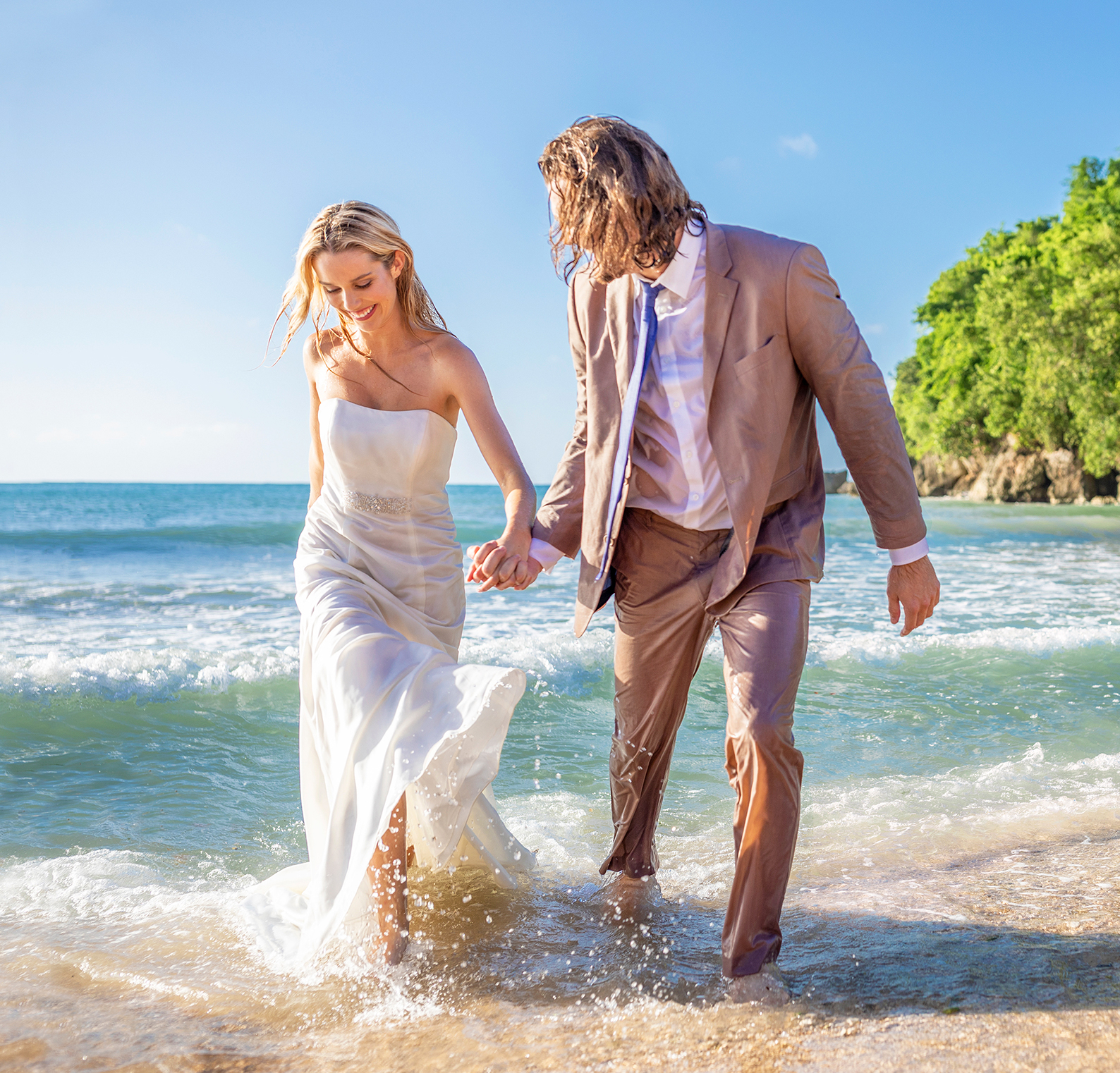 FALL IN LOVE WITH OUR
Weddings & Honeymoons
At Couples Resorts, your most important celebrations unfold in the most idyllic settings in the world. Whether you're planning to say your "I Do's" on a private island or toast your newlywed status on a sun-kissed beach, we promise to make sure everything -  from fresh flowers to sparkling wine - is absolutely perfect.
LEARN MORE
Best Available Offer
6th Night Free Sale Is Extended

Fall in Love All Over Again

The news is official—our 6th night free offer has been extended! Simply book a five-night stay at one of our four oceanfront all-inclusive escapes by Dec 24, 2023 and you'll get an extra night to fall in love all over again. 
Couples Tower Isle

Tower Isle

Featured Tours

Hooves Horseback Tour
Mystic Mountain
Martha Brae Rafting

Explore

Couples Sans Souci

Sans Souci

Featured Tours

Hooves Horseback Tour
Mystic Mountain
Martha Brae

Explore

Couples Negril

Black River/Y.S Falls
Chukka Canopy Zipline Tour
Chukka Horseback Tour

Explore

Couples Swept Away

Swept Away

Featured Tours

Black River/Y.S Falls
Chukka Canopy Zipline Tour
Chukka Horseback Tour

Explore

Sangster International Airport

Hotels Distance

Couples Tower Isle


(1 hr 49 min)

Couples Sans Souci


(1 hr 47 min)

Couples Negril


(1 hr 28 min)

Couples Swept Away


(1 hr 32 min)

Norman Manley International Airport

Hotels Distance

Couples Tower Isle


(1 hr 45 min)

Couples Sans Souci


(1 hr 47 min)

Couples Negril


(4 hr 25 min)

Couples Swept Away


(4 hr 25 min)
Explore Jamaica