1-800-COUPLES
Check Availability
Already Booked?

Free Excursions
Free Golf + Scuba Diving
No Fault Cancellation
Roundtrip transfers from
the airport in Montego Bay
Bars & Nightlife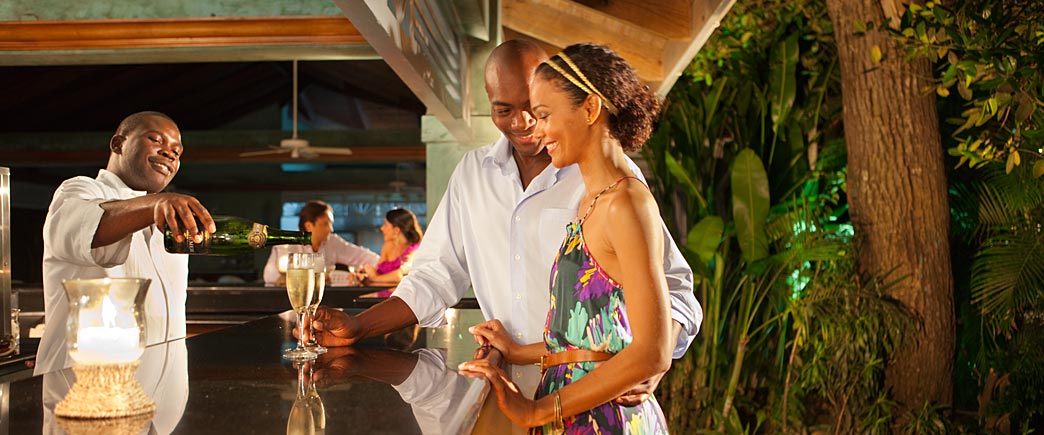 Enjoy the festive atmosphere while sipping a Paradise Passion or Sunset Serenade—signature Couples Negril cocktails. After dinner, we invite you to sample from a world of local and international musical talent—from steel drums to soul, from reggae rhythms to rock 'n' roll, there's a beat to match every mood. The piano bar offers a chic indoor setting for cocktails, featuring Appleton Rum and Red Stripe, and live entertainment five nights of the week and transforms itself for the remaining two into a lively nightclub that will inspire you to kick up your heels.
Beach Bar Flag Service

No need to get up to get your drinks! Guests can stick a flag provided by the property in the sand while lounging on the beach and have the bar staff bring over their order.

Swim-Up Pool Bar

Catch some rays and quench your thirst island style. Located centrally in the middle of the property, the swim-up pool bar is a favorite amongst many guests. Overlooking the beach and the welcome building, this bar is widely considered the main hub of the resort. The fashionable tiki hut offers the perfect place to grab a drink and stay cool.
10 am - 6 pm

Fruit and Veggie Bar

Delight with our fresh juice of the day, fruit smoothies, veggie dips and delectable healthy salads and sandwiches.
11:00 am - 6:00 pm

Beach Bar

Thirsty beachgoers can catch a little shade at the beach bar while filing up their cups with island specialties. Enjoy the ocean breeze and the beautiful curvature of the famous seven-mile-beach.
10 am - Midnight

The Terrace Bar

Guests can find refuge from the sun in an open-air patio at The Terrace Bar. Pick up a Rum Runner or boost your energy with a fruit smoothie. Catch show time every night at 9pm or enjoy a cocktail while listening to the bartender's stories. Either way, this bar is certain to promote a carefree atmosphere.
12:30 pm - 3:00 pm & 6:00 pm - 11:00 pm

Piano Bar

Visit a jazzy place with a chill ambiance. Pull up a seat and join in the fun! Guests are invited to grab a drink and listen to our phenomenal live music performances or test their musical knowledge in a name that song game. Enjoy martini hour on Sundays at 6:30pm or indulge in a Wine & Cheese Cocktail Party on Tuesdays at 6:30pm. Sing your heart out at our sing-a-longs on Sunday, Monday or Friday at 10pm or Karaoke on Wednesdays at 10pm. If dancing is more your style, break out your moves at the dance party every Tuesday and Saturday at 10pm.
6:30 pm until the last couple retires

Sunset Bar

A complimentary Couples van takes guests to an outdoor restaurant/bar atop the cliffs in Negril's West End. Food and drink is not included as this is considered to be an excursion. The only cost is the tip for the driver and whatever food/drink a participant may order. Tables reside on the edge of the cliff oversee a beautiful Jamaican sunset.
Not on property.