1-800-COUPLES
Check Availability
Already Booked?

Free Excursions
Free Golf + Scuba Diving
No Fault Cancellation
Roundtrip transfers from
the airport in Montego Bay
Rewards Program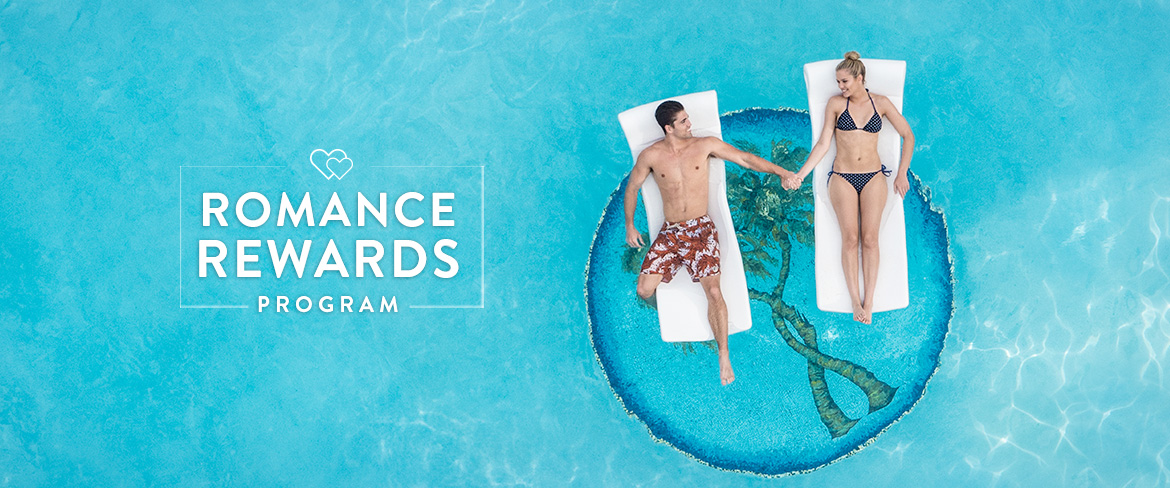 As a guest of Couples Resorts, you can earn "Romance Rewards" from your very first visit. Upon your loyal return to any Couples resort, you will be pampered with unique benefits based on your Romance Rewards level. Just click "Member Sign-up" to register.
Already booked your return stay at Couples Resorts? Visit our Member Priority Pre-Check In area to provide us with your travel information for your complimentary airport shuttle and to receive your Members-Only VIP gifts and exclusive benefits.

Contact our Romance Concierge > Traveler's Checklist >
Romance Rewards
Get a VIP Concierge. All members have exclusive access to a direct, dedicated line to our VIP Concierge, who can book their stay and answer questions. Call 855-242-LOVE**
Compare all Levels
Trading Places day pass at nearby Couples resort

Invitation to the Repeat Guest Dinner on all your repeat visits

Earn $25 resort credit for every couple you refer to stay at Couples Resorts

Trading Places day pass at nearby Couples resort
Couples t-shirts
Invitation to the Repeat Guest Dinner
A $100 resort credit*
Earn $25 resort credit for every

couple

you refer to stay at Couples Resorts

Departure gift
Advance reservations for specialty restaurants (Online pre check-in mandatory)**
Advance reservations for included excursions (Online pre check-in mandatory)**

Trading Places day pass at nearby Couples resort
Choice of: Couples t-shirts, a bottle of Appleton Rum, coffee, or Jamaican sauces
Invitation to the Repeat Guest Dinner
Earn $25 resort credit for every

couple

you refer to stay at Couples Resorts

A $150 resort credit*
Departure gift
Advance reservations for specialty restaurants (Online pre check-in mandatory)**
Advance reservations for included excursions (Online pre check-in mandatory)**

Trading Places day pass at nearby Couples resort
Choice of: Couples t-shirts, a bottle of Appleton Rum, coffee, or Jamaican sauces
Invitation to the Repeat Guest Dinner
A $200 resort credit*
Earn $25 resort credit for every couple you refer to stay at Couples Resorts

His/Her 25 min. massage
Departure gift
Advance reservations for specialty restaurants (Online pre check-in mandatory)**
Advance reservations for included excursions (Online pre check-in mandatory)**

Trading Places day pass at nearby Couples resort
Choice of: Couples t-shirts, a bottle of Appleton Rum, coffee, or Jamaican sauces
Invitation to the Repeat Guest Dinner
A $200 resort credit*
Club Mobay departure passes
Earn $25 resort credit for every couple you refer to stay at Couples Resorts

His/Her 25 min. massage
Departure gift
Advance reservations for specialty restaurants (Online pre check-in mandatory)**
Advance reservations for included excursions (Online pre check-in mandatory)**
Couples resorts Signature gift
Compare all Levels
*Click here for Terms and Conditions >