1-800-COUPLES
Check Availability
Already Booked?

Free Excursions
Free Golf + Scuba Diving
No Fault Cancellation
Roundtrip transfers from
the airport in Montego Bay
Get our Limited Edition Message in A Bottle
($49 plus shipping)
A Special Trip Deserves a Special Announcement
You booked your trip to Couples... now, celebrate the excitement by surprising your love with our limited edition Message of Love. This hand-crafted treasure will impress your love and remain a long-lasting symbol of your unforgettable trip.
Message in a bottle includes
Scrolled message in stunning glass bottle

Museum-quality gift box (perfect to hold your trip photos)
Exclusive intro mini-guide to The Couples experience

Shipped direct to you to present to your love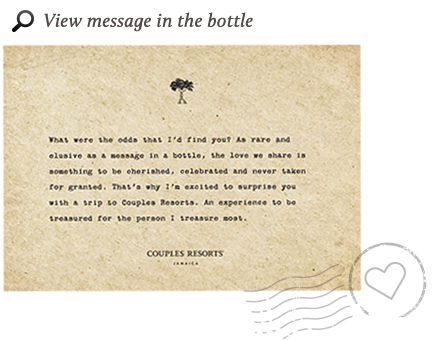 "Amazing resort"

This place was one of the best resorts I've ever been to. It has amazing food, beautiful resort, clean, friendly staff, several adventures that are all included and the best beach you could ask for! I would recommend this place to everyone and cant wait to return!

- Sidney R Omaha, Nebraska

"Best vacation, will come back!"

It was perfect! I will come back for sure. Premium food, premium drinks, premium service! It's a dream of a beach vacation. Perfect white sandy beach, you can walk out for a long while. Awesome games and activities everyday. Stuff that other resorts charge you to participate in is free here. No bracelets, the staff just know who you are! It's not crowded not too busy, really friendly guests. Love it, Just perfect.

- Tiff B Victoria, CA

"Closest to Heaven we will ever get to"

My wife and I have been here 10 times in the past 12 years. That kind of tells you how we feel about Couples Negril. Like they say, "Welcome Home." The minute we get off of the plane and hear the metal drums and singing we know we are in for the vacation of our life. Fine gourmet food, top shelf liquor and it is never ending. We will return again and again!!!

- Mike L

"Another Great Stay!"

Very relaxing vacation once again. Our favorite in Caribbean. Great service with a smile. Wonderful fresh food. Very comfortable rooms. Best beach. I highly recommend Couples Resorts they do a great job.

- VermontFluffy, Vermont

"Our home away from home."

Best beach, best staff. Small and so relaxing. The best go to place in the winter. Can't say enough on how much we love this place. Jerk chicken every day! Yum. Waters are pristine and the evening entertainment is exceptional.

- tjrempe Leighton, Iowa

"Jamaican Paradise!"

Intimate romantic resort. Friendly accommodating staff. Beautiful location. Entertainment whilst dining was a very nice touch. If you are looking for couples only resort then I would recommend this hotel!

- Julie M Shrewsbury, United Kingdom
Thank You