1-800-COUPLES
Check Availability
Already Booked?

Free Excursions
Free Golf + Scuba Diving
No Fault Cancellation
Roundtrip transfers from
the airport in Montego Bay
5 Reasons Why You Should Elope
16 Oct, 2017
He got down on one knee, gave you the ring, and asked for forever. Now, the fairytale wedding is all you can think about, which may or may not also be coupled with loads of stress on you, your relationship, and your pending "I do's'. We want to offer you a friendly reminder. . . you can always elope. We can help.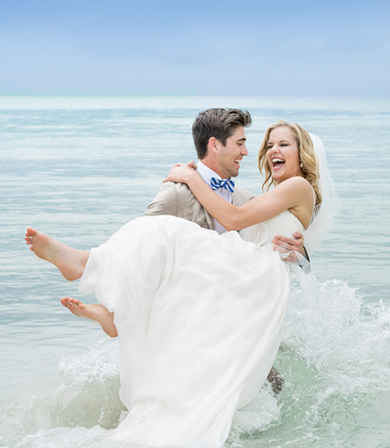 FIVE REASONS WHY YOU SHOULD ELOPE
Less stress, more romance and fun.
Remember why you chose to spend the rest of your lives with each other and let that be your only focus. With a whole team committed to you and your day, we will make your elopement as seamless and stress-free as possible so you two can spend your time with us any way you choose.


No drama.
With wedding planning inevitably comes wedding drama. No wedding = no drama. That's what we are here for. Enjoy a care-free getaway where you can focus on one another without all the drama, drama, drama. Unless, of course you choose to elope and still invite friends and family. In that case, we make no guarantees.


Make your wedding your way.
Too many wedding planning cooks in your kitchen? Between mothers, mother-in-laws, and besties who know it all, it takes incredible will power and stamina to truly make (and keep) your dream vision of a wedding and turn it into your reality. If you elope, no one has to know, and no one gets to have an opinion.


Save the money for a dream honeymoon.
We know where you'd

really

prefer to spend all that hard-earned money.... a dream honeymoon! Pocket the cash of a venue, food, drinks, videographer - you name it - and save up for a honeymoon with memories you'll never forget.


You'll get to save about a year's worth of sanity.
We've all seen that Bridezilla, and it's not pretty. Look and feel your best on your best day. No stress about seating charts, guest lists and whether or not that crazy uncle will behave himself. Your wedding day is about the two of you, and your decision on forever. Make it the most special and memorable possible, whatever your style.
Want to learn more about our Couples Resorts weddings? Click or call (509)- 460-0943 today.