1-876-632-8200
Check Availability
Already Booked?

Free Excursions
Free Golf + Scuba Diving
No Fault Cancellation
Roundtrip transfers from
the airport in Montego Bay
Are you up for au naturel?
02 May, 2016
Can you bear to be bare?
When you are looking to plan a vacation and are approached with the option to bare, or not to bare, which way do you sway? Whichever way you go, please for the sake of everyone, don't forget the sunscreen. . .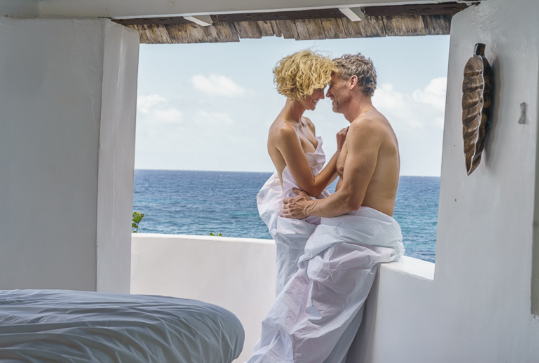 Below are 5 reasons why couples choose to go au naturel while on vacation.
Stepping out of your comfort zone
Many nudist resorts consider themselves clothing-optional, which is comforting if you're hesitant about stripping down. But that also makes it fairly easy to chicken out. If you really want to take this step, you need to do it without a net, so forcing yourself to go to a hotel with designated areas with mandatory "au naturel" sunbathing might be the way to go. Couples Tower Isle in Ocho Rios, Jamaica, is unlike most nudist resorts because guests at this boutique property may be fully clothed everywhere. But on a small, private island just a short boat ride away, you're actually required to be totally nude. You can do it, no buts about it. . .

Spice up your romance
While baring all can be quite daunting, it is nice to know that your partner can't get enough of you in your purest state. When you strip down and are feeling the vacation vibe, nothing exudes more confidence, which is just the ticket for a spiced up romance away from home and your everyday routine. Select a private spot and just be, just you two, in paradise. The revved up romance will come, if it hasn't done so already.

Visit some of the world's most beautiful beaches
Another reason couples opt for an au naturel experience is due to the beautiful beaches that are exclusive to the cause. The Caribbean boasts beautiful private beaches reserved only for the au naturel guests. Couples Tower Isle has the private island about 100 yards off-shore, and Couples Sans Souci has an entirely private beach overlooking the bay with a private pool, grill, bar and not to mention, incredible views of a Jamaican sunset.

The au naturel space is private
It's easy to get shy when making the leap from clothes to au naturel, especially if others who are not so daring, can see you in your new experience. Couples who are on the fence about baring all end up deciding to do so due to the privacy of the experience. Many resorts will not allow any cell phones or photography in the designated areas, and ensure that the au naturel spaces are completely private from other guests or potential onlookers.

Freedom
Have you ever witnessed a little toddler romping around the beach bucknaked, happy as a clam? Instinctively as children, we love baring all and embracing life in new adventures. However, seeing a 60 year-old frolicking similarly is not as frequent an occurrence. There is a certain sense of freedom that comes when we remove ourselves from the self-doubt and self-shame that has grown over the years since we were those free spirited toddlers. Shed the shame and doubt, and embrace living life a little less clothed with your love next time on vacation. Try it, you may just like it.