1-800-COUPLES
Check Availability
Already Booked?

Free Excursions
Free Golf + Scuba Diving
No Fault Cancellation
Roundtrip transfers from
the airport in Montego Bay
Guest Spotlight: Amie Allison + Shawn Hise
06 Feb, 2017
Amie Allison sure loves her husband, just about as much as they love Couples Negril and the adventures our resorts have offered them for many years. These two got engaged at Couples Swept Away and married at Couples Negril. They're currently at Couples Negril celebrating Shawn's birthday and Amie thought it would fun to surprise him with this spotlight as well. . .
Happy birthday, Shawn!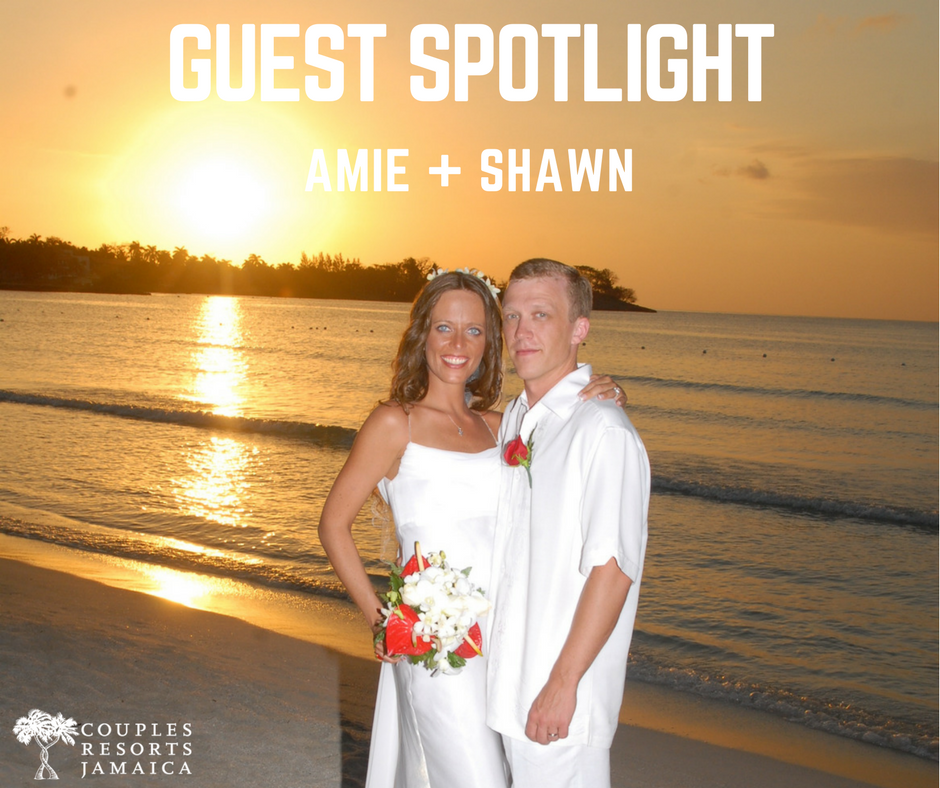 Carrie: Where are you from?
Amie: Brooklyn Park, Minnesota
Carrie: How did you two meet?
Amie: My husband and I met when I was a sophomore in high school and he was just returning from basic training for the National Guard. Friends hosted a party, celebrating his return, and we instantly hit it off. We attended the same high school and knew of each other, but never interacted until that day. We have been nearly inseparable since. That was in 1995, which was 21 years ago. We are high school sweethearts - we are soul mates, best friends, kindred spirits, partners, cheerleaders for each other, and support each other as we navigate through life.

Carrie: How many times have you been to Couples Resorts, and which properties?
Amie: Our first trip to Couples Resorts was to Couples Negril in 2001 and our trip in January 2017 will mark our 13th trip to Couples. We have been going nearly every year since 2001, only missing a few years. In 2004, we did a split trip with the Ocho Rios property and Negril. This was prior to all of the exciting renovations at Ocho Rios. In 2007, we did a split trip with Swept Away and Negril.
To recap, we have traveled to the following properties:
· Couples Negril – January 2017 will be our 13th trip
· Couples Swept Away – 1 visit/trip
· Couples Ocho Rios – 1 visit/trip

Carrie: How has Couples played a role in your personal love story?
Amie: Couples has played an important role in our personal love story. The first trip for us out of the United States was to Couples Negril in Jamaica. After spending five short days there, we knew we had found something special. We continued to travel to Jamaica, almost annually, and at one point had thought to ourselves that this is where we want to get married. In 2007 we split our trip between both properties in Negril and to my amazement and surprise, my husband proposed at Couples Swept Away. We decided to follow our hearts, planned a destination wedding, and got married at sunset on the beach on Valentine's Day at Couples Negril in 2009.
Couples is threaded throughout significant events and milestones in our lives and is a place we go to fall in love again and again and again. After I graduated college, we celebrated by spending two weeks at Couples Negril. In 2015 we traveled to Couples Negril to celebrate being together for 20 years. And now, in 2017, we are going to celebrate my husbands 40th birthday. Couples Resorts will remain in our memories and hearts forever and I know we will continue to come 'home' throughout our lives.


Carrie: What are the top three pieces of advice you would give to a first-time guest at Couples?
Amie: 1. Go on the resort orientation! It will help you take advantage of everything Couples has to offer. 2. Start one of your days in a relaxing way and have coffee, banana bread and fruits delivered to your room. Have breakfast on the balcony in your robes as you ease into the day. 3. Watch out for sand gravity! The beach and ocean and breathtakingly beautiful and some days it is extremely difficult to pull yourself away from the beach (not that it's a bad thing!).

Carrie: In your opinion, what makes Couples so unique?
Amie: I would have to say that the exceptional and personal service makes Couples one of its kind. When you have not been to a resort for 12 months and you get off the bus to a welcoming hug from a familiar face, you know you have found something special. The attention to detail and the hard work of the staff is remarkable. The amount of love in the air is also something that makes Couples a distinctive place to reconnect, revitalize and renew the love with your significant other.

Carrie: In a single word, describe what Couples means to the two of you.
Amie: Bliss
Carrie: Which staff members or fellow guests do you most look forward to seeing when you return?
Amie: We look forward to seeing the smiling faces of Herbert or Franklyn as soon as we arrive! We know it will be one of them greeting us as we depart the bus and it usually comes with a big hug! That is moment we instantaneously know we have arrived 'home'. We also very much look forward to seeing Lindon, who has been there every time we have visited Couples Negril. And although I do not require salon services every trip, I absolutely love seeing Valencia! She was a very big part of my wedding, utilizing her amazing skills of hair and make-up to make me look and feel beautiful.
I would like to add that there have been many staff members that have moved on that we greatly miss – Franklin, Shantel, Toya, and Andrew to name a few.


Carrie: Fill in the blank: Our ideal day at Couples consists of ________
Amie: Waking up to breakfast delivered the room; starting the day enjoying coffee and banana bread on our balcony as we prepare to head down to the beach. Before we go and find a couple of beach chairs, we make our way to Cassava Terrace to enjoy a lighter breakfast. From that point forward, we can be found on the beach, in the ocean, or in the pool for the remainder of the day. We come for the beach and the ocean and relaxation. After a day of enjoying the sun, we head to our room to unwind before dinner. We typically end the night at the Piano Bar before heading to bed and starting the day over again.
Thank you, Amie for allowing us to spotlight you and your husband. Wishing you a wonderful trip at Couples Negril.
One love,
Carrie