1-876-632-8200
Check Availability
Already Booked?

Free Excursions
Free Golf + Scuba Diving
No Fault Cancellation
Roundtrip transfers from
the airport in Montego Bay
Staff Spotlight: Rasan Gordon
07 Jun, 2017
This month as part of our Staff Spotlight Series, we are featuring the lovely Rasan Gordon, Spa Team Leader at Couples Tower Isle. Read on to learn more about her love for her position, the resort and guests.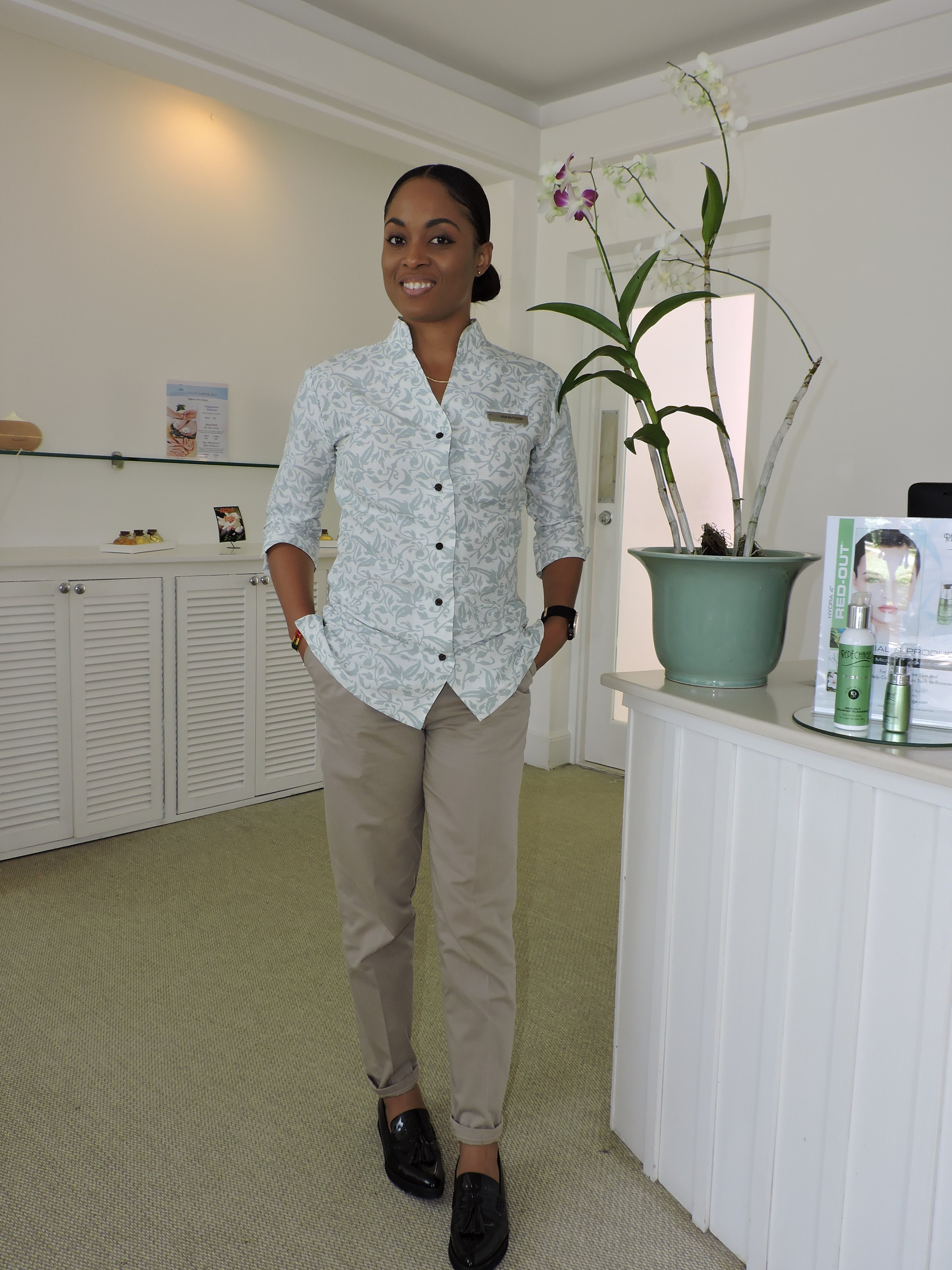 Carrie: How long have you been employed to Couples Resorts?
Rasan: 3 going on to 4 years
Carrie: What do you like most about your job?
Rasan: The responsibilities. Ensuring that our guests are pleased with our service delivery.

Carrie: How has working for Couples Resorts impacted your life?
Rasan: Couples has made and is still making a tremendous impact on not just my personal life but also my professional/ corporate life. I have been promoted recently to Spa Team Leader. That speaks volume to the level of knowledge and work I have developed over the years. When I had applied for the job of Spa Receptionist, I had no idea what a Spa and its operations were about. Couples, in my opinion is a GREAT company to work for. Staff is friendly. Management helps in pushing hard work through monthly Star Performer Luncheon and Awards.
Carrie: What is your favourite food/dish?
Rasan: I love Fried Fish with Festival, plantains and Bammy. Ackee with no saltfish and Fried Dumplins. Rice & Peas with Chicken or Oxtail.
Carrie: Is there a particular person who motivates/inspires you at work?
Rasan: OMG! My Manager, Denise Morrison. She has always been a true mentor and guide in both my personal and work life since we've met and started working together. She always sees the best opportunities through the worst cases. I legit would not have grown so much or so well in the department without her directives, opinion and inspiration.
Carrie: Tell us a bit about your family life.
Rasan: I am very family oriented. I my 4 sisters and 3 brothers shouts big, happy family. My siblings and I share a true love bond. My parents are separated, but it seems almost invisible as we still have a great relationship.
Carrie: What is your most memorable moment or interaction with a guest?
Rasan: Too many memories. Having them express their sincerest love and appreciation for their service. We have had guest who literally cries after they had their massages.
Carrie: Describe Couples Resorts in one word.
Rasan: "ROMANTIC"
Carrie: What is your greatest achievement to date?
Rasan: Getting promoted to Spa Team Leader

Carrie: What are your top moments with guests thus far?
Rasan: Having a lady who has lost her mobility and assisting her with relaxing and getting her body treatments was an eye opener for me. It highlights being grateful for life and the ability to do things without being dependent on anyone. I also had the pleasure of assisting a bride with her wedding as she and her spouse were eloping. Shy but sweet. I managed to help her feel beautiful and confident for her big day.

Carrie: How did you get into your current role?
Rasan: Hard work! Having developed a greater appreciate for the job and its duties. Abiding by and maintaining the standards of the department.
Carrie: In your opinion, what makes Couples Tower Isle (CTI) so unique?
Rasan: The structure and design of the property itself makes CTI unique. Not an overly large, spread out property. Small, tranquil and truly intimate.
Thank you, Rasan, for taking the time to be interviewed.
Do you have a staff member you'd like to see featured? Email me at carrie@couples.com.
One love,
Carrie