1-800-COUPLES
Check Availability
Already Booked?

Free Excursions
Free Golf + Scuba Diving
No Fault Cancellation
Roundtrip transfers from
the airport in Montego Bay
Created in consultation with guests, spa-goers and the industry's most respected health and wellness experts, Couples Resorts' Oasis Spa Villas revolutionize the luxury spa experience. Be among the first to indulge in the Oasis Spa Villa Experience, debuting first at our flagship Couples Tower Isle.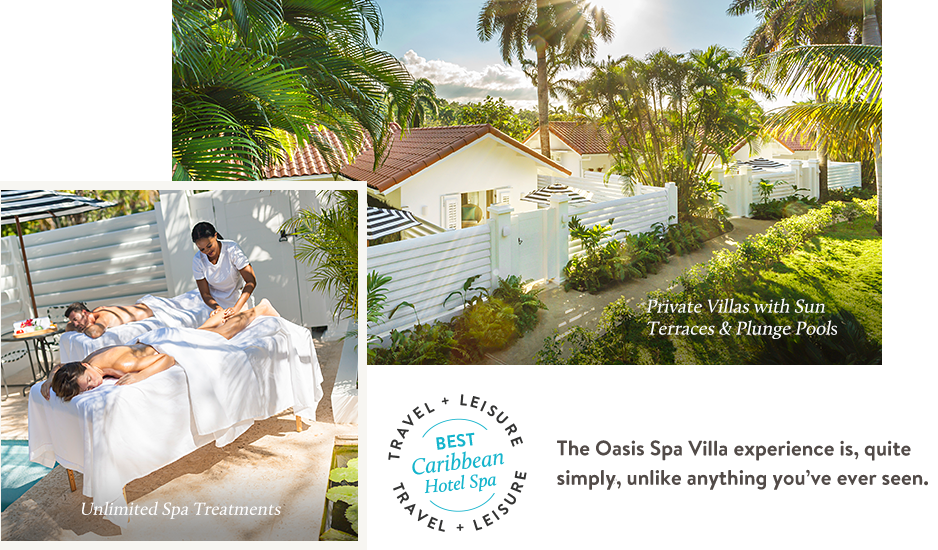 The Oasis Signature Spa Suite is worth it

"Definitely truth in advertising...all inclusive couples only resort PLUS all inclusive spatreatments -- sooooo worth it."

Ayessa T, Falls Church, Virginia

Worth every penny

"This package is perfect if you are a fan of spa services. The Spa Suites include unlimited spa services for two. We took advantage of the services every day, a very nice spa with great therapists just steps away from our room. Worth every penny."

DTWGeorge

Most incredible five days rest and relaxation. 

" The staff was incredible and the services totally pampered to our every need."

Barb H., Boston Mass

Our villa was beautifully decorated.

"We celebrated a significant birthday with a 5 day stay in one of the new Oasis Spa Villas. It was brand new with a private courtyard and plunge pool. The villas are located across the gardens from the main resort buildings and near the spa. We made the short stroll to and from our spa treatments in our robes."

Ayessa T, Falls Church, Virginia